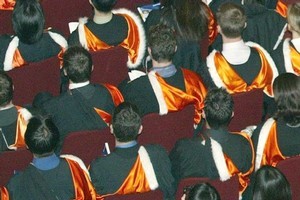 Mary couldn't believe it when she told her students they'd finally flunked the course - and they just smiled.
"I'd say 'you've failed too many times, you've got to re-enrol for this paper' and they'd come to me and say 'no problem'," says the former senior staff member at an Auckland school for overseas students.
"Within two or three hours they'd just go and purchase [a pass]. They'd tell me it cost them between $650 to $1000 and they'd just get it. And there was nothing I could do."
Many students used the API Institute of Education, which was later closed down for awarding false pass marks to its own pupils. However, Mary (not her real name) also named two other schools which are still operating and were regarded by students as an easy source of quick marks for no work.
Mary says she thought the New Zealand Qualifications Authority would refuse to recognise the fake passes but they were registered online within a week.
She says she told NZQA auditors about the problem when they visited her school and anonymously sent copies of all the evidence four or five times over two years but got no response.
Mary says her students usually gained fake passes in papers for a New Zealand Diploma of Business but knew nothing about the subject - "they didn't know a credit from a debit". She has since left the industry and feels glad to be free of the relentless pressure from school owners and students to give pass marks no matter what.
"The students would just lie their way to the qualification. It didn't matter to them, because they were just interested in getting residency."
Another experienced former teacher, John (also not his real name), recalls attempted bribes, from perfume and presents left on desks to plain cash.
"The students who failed used to offer us money to pass them - anything between $1000 and $3000."
He taught at another school where virtually the whole class answered an exam question with a model answer clearly copied from a teacher before or during the exam.
He gave the students zero but believes they would have been surprised to fail.
"My understanding is that giving the students the questions and the answers before the exams is quite rife within the industry."
Other teachers back up their stories. One remembers a copied answer scam that broke down only because the students reproduced the teachers' marking notes along with the answers. One refused to supply an exam paper to managers for fear it would go straight to the students and another recalls wondering how his students could pass when at least 80 per cent never turned up to class.
These staff members asked to speak anonymously, either because they still work in the industry or are worried about offending the school owners. Others are happy to talk openly about a problem they believe has persisted for far too long.
"Students are not actually studying," says Karen Houston, director of the International Travel College, which trains staff for tourism jobs such as airlines and cruise ship crew.
"There are providers who are taking on international students and there is anecdotal evidence at a minimum that in some cases the students aren't being taught. They're here in New Zealand but they're working - for family members or wherever - and their education is spurious."
Languages International chief executive Darren Conway agrees.
"Because they don't have to go to class, they're basically buying a work visa."
Conway and others in the industry call the cheating institutions "ghost schools" (a reference to the fact that students pass even though they never turn up for class) or "visa factories". The second term comes from Australia where a scathing report on the international education industry in March said 20 per cent of schools were permanent residency factories. Several people in the local industry say the Australian figure is probably a conservative estimate. New Zealand is not yet as bad, they add, but the same trends are clearly visible.
* Last year a Queen St school called the New Zealand Academy of Studies was caught selling a business diploma for $12,000 on the television programme Illegal New Zealand.
* In February the API Institute of Education was closed after an investigation revealed that failing students were awarded pass marks and diplomas by administrative staff. Some students with E grades were given A-grade students' papers to copy.
* Two staff members at the Kingsland Institute, which takes up to 400 students, were charged with immigration fraud in July. General manager Donald Han and licensed immigration adviser Chheogyal Lepcha have both pleaded not guilty.
* Another Queen St school, Regent International Education Group, has received a vote of no confidence in its educational standards from NZQA. Its principal, former NZQA auditor Greg Holmes, replied that the school did need to improve but was nowhere near as bad as many others in the CBD.
And in today's Weekend Herald Massey University has admitted that it has been stung by fake diplomas, which led to widespread student failure last year in its Bachelor of Business Studies degree.
Professor Chris Moore, Pro Vice-Chancellor of Massey's College of Business, said a review found some schools were sending students who had very poor English and no chance of completing a business degree.
He estimated about 50 students were involved and the university had to drop up to five schools as a result.
Professor Moore said Massey had to act because the problem was demoralising for staff and good students and bad for the university's reputation.
He felt particularly let down by the schools, which he did not want to name. "We were not well pleased at all with their performance. Some have closed their doors since."
Others familiar with the rort estimate the true number of lost students was much higher and say Massey was asking for problems by allowing entry on reported grades alone, with no English test.
"[The students] would go to Massey with three Bs and they can barely speak English," says one source. "They're in a lecture room with 300 kids and they just fail."
Belatedly there are signs of action. The Immigration Service is proposing a series of changes which might make it tougher for students and schools to cheat the system.
In a policy review sent to schools for feedback, it suggests tighter checks to make sure a student's course genuinely matches his or her career intentions. The change appears to be aimed at "waka jumpers" - students who typically get a visa to study for a diploma of information technology at a top school, then switch to a quick and easy certificate in horticulture at a dodgy one as soon as they arrive.
The review would also stop students from enrolling for repeat undergraduate courses in similar subjects, another common trick designed to extend a student visa indefinitely.
It proposes more clearcut powers for immigration officers to suspend student visas for a school at the first sign of trouble and an increased level of student funds (up from $10,000 to as high as $18,000 for a full-year course) plus more stringent checks to ensure the student genuinely has access to the money. Another change suggests that only direct relatives should be able to guarantee students' finances in their home countries or sponsor them in New Zealand.
Industry insiders say the link between education and immigration can work well. Some overseas students who train as chefs are snapping up well-paid jobs, especially in the South Island where the shortage is worst.
But the connection is also open to abuse. One hospitality tutor says that on his first day he asked his class of 20 who wanted to be a chef .
"Only one hand went up.The rest were very open that they were here just to get permanent residency."
The Australian report into international education found the same problem. It noted a huge growth in foreign students studying courses such as hospitality, computing, business, accounting and even hairdressing, with no apparent link to demand for these jobs.
The report author, former Liberal MP Bruce Baird, said students and schools frequently colluded to take the quickest, easiest route to permanent residency. He also criticised student poaching and the negative influence of agents - both common complaints here.
Since the report came out in March, Australia's foreign student numbers have dived, partly driven by the recession but also by bad publicity from the report, school closures and a series of attacks on Indian students.
The collapse led to the predicted loss of about 300 staff at Melbourne's Monash University, which is struggling to cut A$45 million ($1.28 million) from its budget.
NZQA deputy chief executive quality assurance Tim Fowler says New Zealand is different from Australia. We already have a student fee protection programme, he says, and a system to deregister schools which break the rules.
Industry observers here agree that New Zealand is not as badly exposed, particularly at university level, but worry about the long-term effect if the rorts continue unchecked. "If we don't do something, the whole industry could go down the gurgler," said one source familiar with the market. "It really is a serious issue."