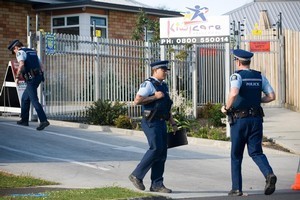 A 5-year-old boy was in a serious condition last night after he was hit by a car outside a kindergarten centre in South Auckland.
The boy, who lived next door to Kiwicare Preschool in Mangere, suffered serious head and facial injuries after a female driver hit him.
Counties Manukau Senior Sergeant John Yearbury said a female staff member of Kiwicare Preschool was reversing out of the driveway when she hit the boy.
"It seems someone yelled out 'Stop! Stop!' but the damage had been done and he'd been dragged under the wheel."
Neighbours said the woman was coming in or going out of the kindergarten driveway.
An eyewitness said she rushed out of her house when she heard ambulance sirens.
The boy was being cradled by his distraught father, she said.
"I saw his father there holding him in his arms and blood was just pouring from the boy's head.
"Apparently the father had to pull his son from under the car's wheels."
The witness said five or six of the boy's family were gathered around the bottom of the driveway where he was hit and were very angry.
"They were all furious at the woman, as you would be."
Police said it was unlikely police will be pressing charges because there did not seem to be any negligence.
Police and ambulance services were called to Chadwick Cres shortly after 5pm.
The boy was rushed to the Kidz First Children's Hospital at Middlemore Hospital and was last night in a serious condition.
Northern ambulance communications said the youngster suffered serious facial injuries.
Senior Sergeant Chris Money said a member of the public called 111 after the crash. Police were still interviewing people last night.
"We don't have many details at this stage because they are still investigating."
Another neighbour said "it was an accident waiting to happen" because children often played in the street.
"They're always, always playing in the street, sometimes the police come along and have to get them off the street."
Kiwicare Preschool takes up a large area in Tennessee Ave and Chadwick Cres and a neighbour said it opened last year.
The institution has been told by police not to comment.
New Zealand has an appalling record of accidents involving young children in driveways.
A New Zealand Medical Journal report revealed the number of driveway deaths to be the highest in the OECD.
An average of four toddlers have been killed in driveways in each of the past 10 years.
However, that figure has already been reached for 2010.
This year's tragedies include a 22-month-old girl who was killed in July by a reversing car in the driveway of her Weymouth home in Manukau City.
In March, Vivianne Wood lost hold of her newborn baby as her car rolled down a Titirangi driveway and the 4-week-old infant could not besaved.
And 18-month-old Sirj-Michaels Siaea died when a neighbour backed out on to him as he played near his parents, who could not get there fast enough to save him.