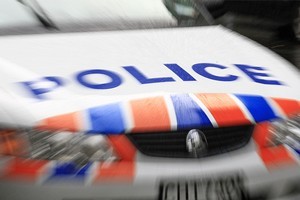 A school caretaker has been taken to hospital after being shot with a BB gun in a suspected drive-by attack outside a Palmerston North school.
Police said the 25-year-old man was working by the roadside outside Terrace End School on Ruahine Street when he suffered a wound to the upper arm about 12.05pm today.
He made his way into the school and emergency services were called.
Police said they immediately provided an armed response and placed the school into lockdown taking all of the students to a safe location within the grounds and preventing anyone from entering the school.
Once the area was deemed safe the lockdown was lifted; the whole process took less than an hour from the initial report of the incident.
The injured man has been taken to Palmerston North Hospital with what is believed to be a superficial injury caused by a BB gun or air rifle, Detective Sergeant Gary Milligan said.
"Our understanding at this stage is that the shot may have been fired from a stationary or moving vehicle, but we won't know more until the victim has been treated medically and we have had a chance to speak to him in detail."
Police are canvassing the neighbourhood and want to hear from anyone who has any information about the incident or saw any suspicious people or vehicles in Terrace End area of Ruahine Street around noon.
A grey utility with a canopy was seen in the area around the time of the incident, although this vehicle may or may not have been involved and police are asking the driver of that vehicle to come forward to be eliminated from enquiries.
- NZHERALD STAFF