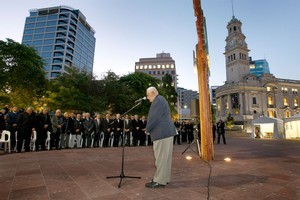 The new Auckland Council was blessed by iwi at a ceremony in Aotea Square this morning, officially signalling the transformation of eight territorial councils into one "super city".
The council will hold its inaugural meeting tonight, with new Mayor Len Brown and 20 councillors being sworn sworn into office at the Auckland Town Hall.
Local Government Minister Rodney Hide said the new council had been streamlined to ensure the most efficient use of ratepayers' funds, and there would be immediate benefits to many residents.
"From today, there is a 13 per cent staffing reduction - saving ratepayers $66.5m in annual salaries. By the end of the transition period - July 1 2012 - this will increase to 16 per cent, or a $91 million annual saving. Roughly half of the reduction has been by natural attrition, minimising the burden of redundancy payments."
Auckland was now set up to be the "world-class city and economic powerhouse" that New Zealand wanted it to be, Mr Hide said.
"The Government has done its part. Now it's over to the new Mayor Len Brown, and his team, to take control and build a brighter future for Auckland."
Mr Brown was voted in as the area's mayor on October 9, beating his rival John Banks by 60,000 votes.
He said he was excited about his first day in the top seat with his new council, but realised the reality of the challenges ahead and said the change was necessary.
"I know there's either concern or interest from local government around New Zealand and other councils about whether or not they ought to be contemplating amalgamation, but I think it's really important - and I think other New Zealanders really got this - that Auckland is a bit of a unique case."
He said that was Auckland was home to 35 per cent of the population, while the next biggest city was home to about 10 per cent.
- NZPA