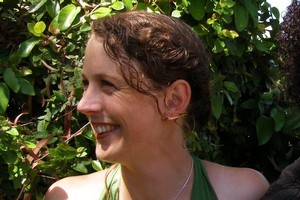 The fatal shooting of Lower Hutt teacher Rosemary Ives was one of three dangerous night hunting incidents over Labour Weekend, it has been revealed.
Police and Department of Conservation officials are angry about the practice, worried that more innocent people could be killed.
Ives, 25, was shot in the head as she brushed her teeth beside her partner Adam Hyndman, metres from their tent at a DoC campsite near Turangi last Friday night. Hyndman fought for 90 minutes to save her life.
A funeral for Ives was held at Seifried Winery on Rabbit Island in Nelson on Thursday.
Hamilton hunter Andrew Mears, 25, allegedly mistook Ives for a deer or possum while spotlighting, in which hunters use torches to identify their targets in the dark.
He has been charged with careless use of a firearm and may face more serious charges.
Police are also setting their sights on a pack of gunslinging "idiots with spotlights" who went night shooting within metres of terrified Wairarapa trampers at the weekend.
DoC national hunting adviser Brent Beaven said trampers who stayed overnight at Totara Flats Hut reported the incident to field staff, who turned the matter over to police.
"The hut was near full and these idiots were shooting only 50m away," Beaven said. "The trampers were very frightened. This sort of behaviour is certainly not representative of the majority of hunters and, in my opinion, can't even be considered hunting.
"A spotlight only reaches about 300m but a bullet from a high-powered rifle can travel over a kilometre. It's impossible to know what's in your firing zone at night. It's just plain dumb."
The spotlighters broke the law under the Arms Act as they frightened and annoyed the trampers. They also breached DoC legislation by hunting on a reserve at night.
Beaven said hunters had to get a permit to stalk on DoC land. Violators risked up to a year in jail or a $10,000 fine.
On Saturday night, shots were fired from a vehicle near where a DoC worker was camping at Butchers Flat in the Marlborough Sounds.
Conservation Minister Kate Wilkinson said night hunting with spotlights on public land would not be tolerated.
She urged hunters to be vigilant and report any illegal activity. "We have to make sure that the police are contacted. Then the police can take action accordingly," she said. Additional reporting
Wairarapa Times Age