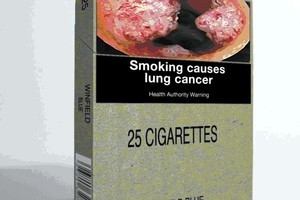 Graphic images of the adverse health effects of smoking do deter young adult smokers and should be significantly increased in size, according to Otago University research.
Smokers aged between 18 and 30 are more likely to consider giving up cigarettes if branding on the front of packets is reduced and graphic health warnings are increased in size, the research said.
The research, led by Professor Janet Hoek from the Department of Marketing, surveyed 292 young adult smokers, the demographic with the highest smoking prevalence in New Zealand.
The study presented young smokers with a variety of alternative cigarette packs, ranging from the status quo branding, with 30 per cent of the front carrying a pictorial health warning, to a plain pack with a picture of smoking-related disease covering 75 per cent of the pack front.
"The responses clearly show that as branding is reduced and health warnings increased in size, the product becomes increasingly less attractive to young adult smokers," Ms Hoek said.
"Plain cigarette packs featuring large graphic health warnings are significantly more likely to promote smoking cessation than the heavily branded packs that are still the status quo."
The results are consistent with other international studies that indicate brand imagery reassures young smokers and can over-ride health messages, she said.
"Our findings provide strong evidence that branding should be reduced and graphic health warnings should be increased so they cover at least 75 percent of the front-of-pack surface. Where branding is larger than health warnings, the dissuasive effect of the latter is diminished."
The study called for larger pictorial health warnings, which it said would have significantly more impact on smokers of all ages.
Across the ditch in Australia the Government looking at introducing legislation requiring plain packaging of cigarettes and larger health warnings by 2012.
"Larger warnings and plain packaging are keys to reducing smoking and New Zealand should follow Australia's lead in introducing these policies," Ms Hoek said.
The study was funded by the Heart Foundation of New Zealand and the Health Research Council and has been published in the international journal Tobacco Control.
Prudence Stone, the director of the Smokefree Coalition, said the research was timely as the long-awaited reportfrom the Maori Affairs select committee inquiry on tobacco is due to be presented to Parliament.
"What we've been hoping for from the select committee is a recommendation to Government to go ahead with Australia to bring in plain packaging."
She said the research will "galvanise" the view changes to packaging is required.

- NZ Herald staff