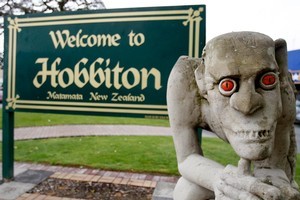 PROLOGUE: Little Jack Warner spat in the corner
Meeting a foul knave he knew
With a curl of his lip he flayed Simon Whipp
And said, "What a bad boy are you!"
A Midsummer Night's Mare:
Being a Shakespearean Tragedy (but with a happy ending)
SCENE 1: Two knights in a workshop
(3D glasses available)
Knight 1: Is this a dollar I see before me?
Knight 2: Sir Bilbo, 'tis indeed. A dollar raised high, forsooth, and no time soon to fall.
Knight 1: Yon dollar is a dagger then, too keen my heart to cut. Out, out, brief sequel! A pox on currencies, and their fluctuations. They mortify me, e'en though I still be warm and spared grave's cold embrace.
But not the dollar's scorn nor yet the lash of that cruel Whipp. With heart as black as is his list, his curs-ed lips our drama's kissed.
Knight 2: Gadzooks, I think thee right, sweet Prince. Though thou didst warn them oft with warnings clear you were a warner unbeheard. And now, by Wallaby Ned and a Kelly of our own, we are unhorsed. Unhorsed and hearsed, I fear.
Knight 1: A hearse, a hearse, my kingdom for a hearse! Thus falls the curtain on our bold endeavour. To black we fade. All the world's a stage and most hath better deals. Our sound and fury's signifying nothing, so foul the actors' calumny.
The knights fall silent. All we hear are the jubilant squawks of an Australian galah.
SCENE 2: Deep in the woods of Dunsinsane, three witches dance around a bubbling cauldron. (3D blindfolds available)
Witches All: Hubble, bubble, toil is trouble
Wing of bat and eye of newt
We shall curse this Hobbit shoot
Witch 1: Now from my boy cot I have leapt, where with my boy I happy slept. He snoreth still in the pit. My Brad is nailed, my brace bit.
Witch 2: And much more bit besides, I'll vouch. For didst we all not see you laying waist in Spartacus, bare bodkin ripe as fecund fruit. I'll wager you got a few residuals there, Witch Jennifer.
Witch 1: Fie, trollop! Shame! Zip tight thy lip or zip it shall I for thee. And call pestilence and mange upon you too, Witch Robyn. I swear thou art the pat calling the cuddle black. Oft hath you most comely come ungarb-ed for the swings and furrows of Outrageous Fortune. Thou wouldst lay with an egg if you got the DVD rights.
Witch 3: Sisters!! Stay thy tongues! Scratch not your eyes out, please. We're here to fight the Brothers grim and raise our comrades' fees. Low comedy for groundlings doth not our cause serve well. Come, witches, we have spells to cast and also casts to spell.
Witch 2: Spake well, Witch Helen. 'Tis Warner, not banter we want. Hark, hags, and heed as I declare class war in my best posh middle-class voice. Hence must we hi to fight for the oppressed - and well-paid actors! Lay on, MacDuff, and damned be her who first cry, 'Hold, enough!'
A grave digger enters with a skull in his hand.
Gravedigger: Alas, poor Gollum, I knew him well.
SCENE 3: The knights approach Vogel House, where secret talks are being held.
(3D money available)
Knight 2: What tax through yonder window breaks?
Knight 1: Tax breaks? Aye, there's the rub. Perchance to dream, yet dream we must or watch all Hobbiton turn to dust.
KA-BOOM!!! There's a giant explosion and blinding flash. A magical figure approaches.
Knight 2: Who cometh now in raiment bright? Gandalf, is that you?
Figure: Not Gandalf, nay, but better still, 'tis Johndalf. Fetch thee a firkin, friends, there's cause for celebration.
Knight 1: Give me thy breath to hold, good friend. I darest not hold my own.
Figure: Hold not your breath but clasp your camera close, Sir, and lend me your ears. In meetings hath I been with Brothers and Brothers is an honourable man. Hard is the bargain driven and much my eyes did water but all's well that ends well. And nothing ends weller than new laws for contractors and a cool $30 mill, payable in the Cayman Islands.
Knight 1: 'Pon my soul, now is our summer of our discontent made good.
Enter the Witches.
Witch 3: Aye, so, and ours. Meek we yield, our race is run. The die is cast, the blacklist done. Big budget's budged us, start the shoot. We'll take our lumps and bank our loot.
The knights and the witches embrace.
Knight 1: To the bat cave, Robyn. We've got a movie to make! Thank you, Warners! Thank you, Johndalf!
Figure: I'll send you the bill, bro!
And they all lived Hobbily ever after.