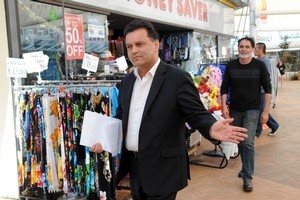 Contesting the Mana by-election will provide a clear alternative for voters and put pressure on the major party candidates to respond, says Unite Union leader Matt McCarten.
Backed by the union but running as an independent for the northern Wellington seat, the former Labour member and Alliance president sprung the surprise announcement today at his new Porirua office.
A Labour stronghold, Mana was recently vacated following the resignation of MP Winnie Laban, but Mr McCarten didn't appear concerned about splitting the left votes and enhancing the chances of National's Hekia Parata.
He said he would campaign hard on a clear mandate of fair tax, lifting the minimum wage and creating jobs for all, and that would put pressure on the two main contenders and force them to work harder.
Labour's candidate Kris Faafoi has been on the campaign trail since switching last month from his party press secretary role. He said today the Mana contest was always going to be a two-horse race and Mr McCarten's emergence didn't change anything.
"We've been on the road for nearly five weeks now and just need to keep working hard."
He said the situation in Mana, which has a large low socio-economic sector, was that businesses and low-wage earners were struggling in tough economic times and the Government was doing little to assist.
Mr McCarten, a Herald on Sunday columnist, said Labour was heading in the right direction but not fast enough.
He said the party had worked out after 25 years that the "new right experiment" hadn't worked out, but had been timid in its approach on how to address it.
"We want to put a bit of pressure on Labour, to be honest, to front up in this campaign about what the alternatives are, and if they are against what is happening now, what are they?"
Policies needed to be better than keeping GST at 15 per cent but exempting food.
Unite has for over a year been running a campaign to lift the minimum wage to $15 an hour, and that would be one of the by-election platforms.
Mr McCarten said the campaign would also target National's tax changes and promote an ideology of jobs for everyone.
"We want to say the market response about a market solution to employment is over. The state needs to intervene. No-one gets the dole, everyone works."
That meant putting more teacher aides in schools, extra care for the elderly, and providing basic training so young people could repair state homes. Tax cuts recently given to the top earners would fund such a system across the country, let alone in Mana, he said.
Mr McCarten has been taking medication for cancer, and said while the initial diagnosis was grim, the situation had recently improved and he felt in good health.
While Mr Faafoi is a clear favourite to win Mana and Ms Parata is the underdog, six others, including Colin Du Plessis from ACT and Jan Logie from the Greens, are also contesting the November 20 by-election along with Kelly Buchanan (Alliance), Julian Crawford (Aotearoa Legalise Cannabis Party) and Sean Fitzpatrick (Libertarianz).
- NZPA