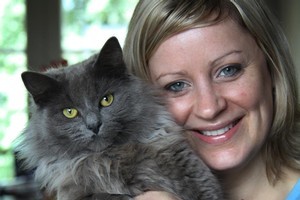 When Diane Rozmus found her cat Baloo lying bleeding and barely breathing she never could have imagined the horrific ordeal he had been through.
Thinking her beloved moggy had been hit by a car or attacked by another animal, she rushed him to the vet.
Almost a week later, after x-rays were taken to establish why 1-year-old Baloo had been urinating blood, she learned he had been shot and had five air gun pellets embedded in his head and body.
A pellet was removed from his bladder but he will have to live with the two in his head and two in his body for the rest of his life.
"I feel sorry for the person who did this, that they are so messed up that they have to take their anger and problems in life out on a defenceless little animal.
"He didn't do anything to deserve this."
Rozmus has spent about $1500 on vet bills so far but said the emotional impact was much higher.
"You get a little suspicious of people. You keep looking at people thinking 'did you do this?'."
She hoped the person who shot Baloo was caught.
Baloo may be getting plenty more attention over the next couple of months too.
Clothing designers Huffer contacted Rozmus to ask if they could use an image of Baloo on T-shirts they are designing for animal rights group Paw Justice.