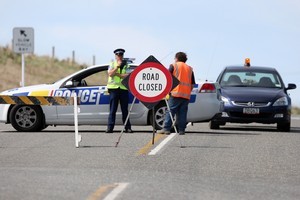 One person has died in a crash on State Highway 93 in Southland today.
The accident happened at midday about 15km east of Mataura, near Gore, on a stretch of highway known as Old Coach Road.
The crash brings the Labour weekend road toll to two, following last night's fatal crash in Hawkes Bay.
One person died and a second was injured in a head-on collision on State Highway 2 at Matamau, near Norsewood about 8.15pm.
"While the details of the crash are still unclear, it appears that one vehicle crossed the centre line and collided with an oncoming vehicle," said national police roading manager Superintendent Paula Rose.
"The heavy traffic over the weekend means that there is no room for even a small error as there will always be oncoming traffic. Any collisions will be high speed and deadly."
She said police were "saddened" by the death, which dashed hopes of holiday weekend free of road fatalities.
"However, we are not giving up on New Zealanders and are committed to doing our best to keep the road toll down.
"We are focused on making sure that no other family is deprived of a loved one," she said.
"Police are enforcing a reduced speed tolerance of 4km and will be out in force over the weekend.
The official holiday runs from 4pm yesterday until 6am on Tuesday.
- NZPA