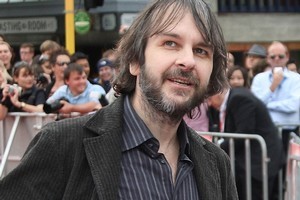 The loss of The Hobbit film overseas is a "potential tragedy for the New Zealand film industry", Minister of Arts, Culture and Heritage Chris Finlayson said this morning.
The producers of the Lord of the Rings prequel The Hobbit overnight issued a statement saying preparations were being made to move production of the film off-shore.
Click here for the full statement.
Peter Jackson and Fran Walsh said industrial action by NZ Actors' Equity and Australian union Media Entertainment and Arts Alliance had "undermined [Warner Brothers'] confidence in New Zealand as a stable employment environment."
They said the studio was "now, quite rightly, very concerned about the security of their $500m investment".
"Seemingly overnight, NZ Actors' Equity shredded the reputation of a burgeoning industry, which has been over forty years in the making," the statement said.
'Very real threat'
Mr Finlayson told the Herald he was very worried about what had happened.
"It's very concerning what came out [in this morning's statement] from Sir Peter.
"No one has done more for New Zealand films than him and he is someone that I listen to very carefully. I'm very, very worried about these developments. I think it's potentially a tragedy for the New Zealand film industry."
Mr Finlayson said there was a very real threat that New Zealand would lose The Hobbit.
"I suggest he [Sir Peter] would not make those kind of comments lightly or in a flippant way. Warner Brothers are coming out next week and we'll have an opportunity to talk to them then".
He said the potential for a small group of actors to jeopardise the NZ film industry in this way was "ridiculous"
But their actions would indicate that there are consequences that could be very harmful to New Zealand, he said.
Lifting of blacklist
But Council of Trade Unions president Helen Kelly, who has been involved in union talks, said the industrial issues were on their way to being resolved and an actors' blacklist was lifted last Sunday.
"Warner is aware of that. Jackson is aware of that," she told Radio New Zealand.
She said other countries had offered a deal that was double New Zealand's 15 per cent tax rebate for films.
"There is a theory that this whole thing has been blown up, that the genuine request by performers to negotiate the terms and conditions has been used to put pressure on the Government to change the terms in which this film will be made in New Zealand," she said.
"It's an international corporation bullying our government to match conditions that are available in other countries."
Finance Minister Bill English did not comment on whether the Government had offered a tax rebate of 30 per cent to Warner Brothers when asked about the issue by the Herald this morning.
"There is always generous assistance to the film industry and there would be pretty generous support for this film if it's done in New Zealand."
NZ Equity member Robyn Malcolm said she wondered how asking for better conditions could have derailed a multi-million movie in New Zealand.
"I feel there is an enormous amount of inflammatory and dramatic language" and the dispute could have been solved by a mature conversation about a month ago," she said.
Ms Walsh and Sir Peter said the damage to New Zealand's film industry had already been done.
"Next week [representatives of Warner Brothers] are coming down to NZ to make arrangements to move the production off-shore. It appears we now cannot make films in our own country - even when substantial financing is available."
Financial impact
Economic Development Minister Gerry Brownlee told TVNZ's Breakfast this morning he had hoped some of the achievements Sir Peter and Ms Walsh had made for New Zealand could have led to a situation where production of The Hobbit was in much better shape.
"It's utterly appalling that they have been treated like this, and it's worse, I think, that we've got an Australian union purporting to represent the industry here in New Zealand," he said.
"The moment we had the `don't work' order on The Hobbit issued through the Australian union, we were cast into the uncertainty that a lot of the film world through other countries operates in," Mr Brownlee said.
"It's a dreadful situation and it's going to take a bit of work to even get future productions into good shape."
The Employers' Chamber of Commerce Central's president Jo Bransgrove said there would be a huge economic loss if the filming was lost abroad.
"The filming of The Hobbit provides an opportunity for the creation of thousands of jobs and the injection of millions of dollars into the local economy.
"The economic momentum generated from the success of the Lord of the Rings trilogy would be lost if it does not go ahead," she said.
"The stakes are high. The film industry is crucial to both the Wellington and New Zealand economies. But our reputation as a good place to make films is at risk.
SPADA chief Penelope Borland told National Radio the production was "100 per cent on track until the boycott".
"The boycott will be totally responsible if it goes off-shore," she said. "It is a case ... of the union not understanding this was real that it could have gone off-shore."
Studio workers' march
Last night up to 1500 workers marched from Weta's Miramar studios into central Wellington to picket an Actors' Equity meeting being held at St John's Hall. The Equity meeting - which was to discuss unrelated matters - was cancelled after union bosses learned the march was on its way.
"The spectacle of NZ Actors' Equity suddenly cancelling their Wellington meeting, because film workers wanted to express to them their concern at losing The Hobbit, exemplifies the pure gutlessness of this small, self-centred group," Sir Peter and Ms Walsh said in their statement.
"They don't appear to care about the repercussions of their actions on others, nor are they prepared to take responsibility for decisions made in their name. NZ Equity constantly refer to 'good faith' discussions but they have never acted in good faith towards our film."
The statement said four weeks ago NZ Equity, represented MEAA, urged "several international actor's unions to gang up on our production in an attempt to bully us into illegal collective bargaining".
"MEAA's representative, Simon Whipp, admitted in a recent interview with the Hollywood Reporter, that it was his intention to use The Hobbit as a way to 'unionise other productions' in the New Zealand film industry - presumably whether we want it or not.
"This unilateral decision, made by an off shore union, we assume with Equity's blessing, is the reason why our film industry is now in dire jeopardy."
- With NZPA