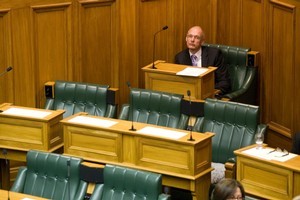 Te Atatu MP Chris Carter slipped quietly back into Parliament yesterday, sitting in the back corner several rows from his former Labour colleagues.
Mr Carter was expelled from the Labour Party following disciplinary action, after he sent an anonymous letter to media alleging a coup against leader Phil Goff.
He was quickly ousted as the writer of the letter and went on sick leave for several weeks.
Last week, Speaker Lockwood Smith said he would start docking Mr Carter's pay by $10 a day because he had been absent without certified leave.
As an MP, Mr Carter earns about $145,000 a year. He arrived in the House yesterday shortly after the beginning of question time at 2pm and left soon after photographers arrived - less than an hour later.
Dr Smith's office had assigned Mr Carter a new seat now he is no longer a Labour MP.
He was seated in a far corner, two rows behind the Green Party.
He appeared to pay little attention to proceedings until Prime Minister John Key mentioned his name.
"Is that your new friend?" asked one Labour MP.
"Well, he was your friend once, actually," Mr Key replied.
- NZPA