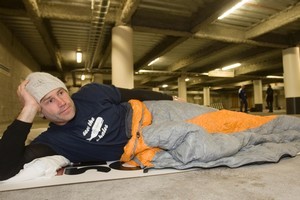 Prominent Aucklanders helped to raise $70,000 last night for Lifewise's Big Sleep Out to benefit the homeless.
TV showman Marc Ellis, Maori TV host Julian Wilcox, National MP Nikki Kaye and former All White Noah Hickey took sleeping bags into the relative comfort of the social agency's Airedale St underground carpark.
Ellis has done volunteering for the Auckland City Mission and said it was an easy choice to lend a hand.
He had spent Wednesday nights serving up hot drinks, he said, and it was an eye-opener to see the variety of people who found themselves sleeping rough - from pregnant teens to 75-year-old men.
"I know most of the guys and they're wonderful people and there's a fair swag of them. They've got a glint in their eye. Getting to know them from the other side of the counter was good ... [for] the really overtly friendly ones, you'd always make sure to save them the best bit of dessert. There but for the grace of God go you or I."
A yearly census by the Auckland City Mission has put the number of homeless people living within 3km of the Sky Tower at 120.
Multiple agencies dealing with the issue estimate Maori make up between 50 and 70 per cent of the group. That's a terrible statistic, said Mr Wilcox, who is a former AUT lecturer and taught two men who were homeless when they took te reo courses. One passed with As. Years later, they continue to do it hard in the central city.
"A lot of these people, as far as I'm aware, have tried to seek whanau assistance and have been spurned by their own whanau, Mr Wilcox said.
"I think it's disgusting there are so many Maori who are homeless in Auckland, because all these Maori are brothers and sisters and daughters or mokos of someone. They're members of hapu or whatever and it is a condemnation on ourselves that we have allowed members of our whanau to fall through the cracks and we don't provide them any assistance."
Lifewise is raising money for its new Karangahape Rd hub which is opening next month. It's been changing the way it works from the "soup kitchen" model to rapidly rehousing people and getting them off the street.
Services manager Corie Haddock said the agency would teach the homeless barista, table-waiting and kitchen-hand skills to help them to move into paid jobs.
"The reality is we supported homeless people to be homeless for a long time and now we're supporting them to break the cycle."