Click here to see election results from your area.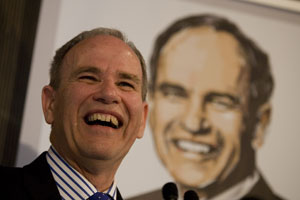 Minutes after being elected the Super City mayor, Len Brown launched into a stirring speech on how he wished to make Auckland "the world's most livable city".
Mr Brown polled 221,167 votes, compared to 161,167 votes for Mr Banks, a victory by 60,198 votes, according to the first progress result declared after the polls closed at midday.
Businessman Colin Craig was in third place with 40,483 votes.
Nervous supporters at Sorrento's in the Park in One Tree Hill broke into celebration after hearing of the huge margin of Mr Brown's victory - "a Lendslide", in the words of one.
At 12.45pm the electoral officer had called Mr Brown to tell him he had seen off Auckland Mayor John Banks by 60,000 votes.
"I just froze," said Mr Brown."It was a very clear, concise second where I was praying to hear the right words - I did. What an amazing result."
Thirty seconds after that call, John Banks rang Mr Brown from his camp to tell the new mayor he had his "full, 100 per cent support".
Mr Brown, in a 20-minute address to 300 supporters, said Aucklanders had elected a mayor who would unite all of Auckland, not just the south.
"I'm so proud to stand in front of you and say I am a mayor for all of Auckland. I want to build Auckland into the great, great, great city it can be."
"After 170 years of disparate growth, we need someone that can reach across geographic and socio-economic boundaries."
"To our people, thank you, I'm humbled. "
He invoked the legacy of former mayor Dove Myer-Robinson, declaring that he wanted to build a city on rapid transit, which would encourage economic growth.
He complemented his rival for the mayoral race.
"To [Mr Banks and wife] Amanda, from Shan and I, we give our heartfelt appreciation. It has been a tough and torrid campaign, but Auckland needed to see this."
He did not rule out finding a position for Mr Banks in the Super City.
"He and I will have discussions and we will see if there is a place he can fit in."
Leader of the Opposition Phil Goff, one of several Labour MPs at the party, said he believed Mr Brown would be an inclusive mayor, and would not run the city like a corporation.
He arrived at Cornwall Park after the result was announced to congratulate Mr Brown.
Mr Brown spent much of his speech thanking his wife Shan and his three daughters.
"Auckland has chosen a brilliant and beautiful mayoress. We know that the last three years have not been without challenges."
He caught his daughter Victoria, 11, praying this morning that her father would win.
"I think she was thinking of a David and Goliath story. I guess that makes me David."
Mr Brown also complemented, at length, the contribution of his campaign manager Conor Roberts.
Tom Brown, Len's father, said he had not expected his son to reach such heights.
"He has jumped over the moon to become mayor.
"When I look back I remember him winning an election to become third form president at secondary school. I should have seen the signs."
Mr Brown was expected to spend the afternoon celebrating at Cornwall Park, before having dinner with his family.
His first formal appearance as mayor will be at the opening of the refurbished Eden Park tomorrow.
On Monday he planned to start searching for a mayoral office, and meeting with his new councillors.
In his first duty as mayor of the biggest council in Australasia, Mr Brown will attend the opening of the new South Stand at Eden Park tomorrow with Prime Minister John Key.
"It would be nice to have a holiday," Mr Brown said. "But I don't see that coming any time soon."
How he did it
The 53-year-old Mr Brown stood on a platform of uniting Auckland's diverse communities and promised rapid process on rail projects.
In an acceptance speech at a conference centre on One Tree Hill today before the official results had been released, Mr Brown said it had been a tough and torrid campaign.
"John and I have given it our very best shot and have covered off all the concerns people could have about how we might and should and could go forward."
He thanked his family and supporters but he also thanked Mr Banks for a call to congratulate him on his victory.
Mr Brown was elected mayor of Manukau in 2007, succeeding Sir Barry Curtis.
A lawyer, Brown was a Manukau city councillor for four terms before he was elected mayor.
Mr Banks, 63, made a strong finish of the final days of the three-week postal ballot with his supporters in Auckland City and North Shore City voting in large numbers.
But in the final count, Mr Banks, a National Party stalwart fighting his 13th campaign in a political career stretching back to 1977, was well beaten by his Labour Party opponent.
Mr Brown's victory was built on a strong turnout in South Auckland - no mean feat at local body elections - and a very good campaign.
After a chest-thumping, head-smacking response to scrutiny over use of his council credit card for personal purchases in June, Mr Brown hardly put a foot wrong during a long and hard-fought campaign.
The new Super City, which will replace the existing eight councils in Auckland, comes into being on November 1.
The Super City will comprise the Auckland Council with 20 councillors and the mayor, and 21 local boards, with between five and nine members each.
Mr Brown and the elected representatives are due to be sworn in on November 1.
After today's hand-delivered votes are collected from public libraries and council offices and counted, a preliminary result will be released later this evening. The official result will be publicly declared on October 18.
Banks' reaction
John Banks congratulated mayor-elect Len Brown unconditionally as he conceded defeat for the Super City mayoralty.
Banks made a 10-minute speech to media at the Auckland Town Hall this afternoon, flanked by his wife and three children.
He smiled and put on a brave face as he read out a statement that included much praise for his rival.
He had called Brown immediately to offer his congratulations, Banks said.
"He has my total support in this great challenge in uniting the city of Auckland."
He had not dissected why he lost, but noted the 60,000 votes won by "another first-class candidate" - a reference to business-minded Colin Craig.
As Banks walked in and out of the conference hall, he received a rousing applause from about 20 close friends.
Banks noted this was his 13th campaign and his third loss.
"I don't differentiate between losses. I don't like losing," he said.
He did not comment on his future, but said, in response to whether Brown had offered him a job yet: "The last thing I need is a job. I've got plenty of work."
Craig's reaction
Colin Craig said he was pleased to have polled a "respectable third, especially given the focus on a two horse race".
"As a genuine independent campaigning against politically backed candidates it was a tough challenge."
He did not rule out standing for office in the future.
- with NZPA