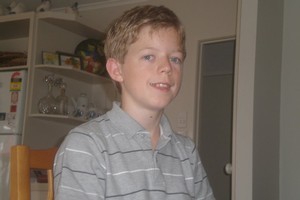 A King's College student who died after a night of binge drinking at a birthday party wrote a card to the host, insisting that "what happens tonight doesn't leave tonight - and no photos".
A coroner's inquest into the death of James Webster yesterday heard claims of how the 16-year-old had become a heavy drinker.
His former girlfriend said he was drunk every second week.
On the night of May 8, James became so drunk on vodka at a party in Grey Lynn that he had alcohol poisoning, and died early the next morning.
A post-mortem examination revealed he had 391 milligrams of alcohol per 100 millilitres of blood - 13 times the legal driving limit for a youth.
James died at the home of Rachel Carter, whose daughter Danielle was one of the girls hosting the birthday party.
Representing the Webster family at the coroner's inquest, James' uncle Donald presented a card that James wrote to Danielle before the party.
It said: "What happens tonight doesn't leave tonight - and no photos".
Questioned by Mr Webster yesterday, Danielle - who went out with James for a month - said she did not know what the card had meant.
But she said he was a heavy drinker who was drunk every second week. She said he had promised her he would stop.
On one occasion she received a text message from him: "I'm not talking to you this weekend. I'm going out and getting really drunk."
She was told he often became comatose with alcohol, but she had never seen him drunk before the party.
On the night of May 8, Danielle's mother, Rachel, said James was carried semi-conscious, vomiting and moaning from the Grey Lynn Returned Services Club.
Ms Carter told Coroner Gordon Matenga he was placed in the recovery position outside the club and checked on.
His friends would not say how much he had drunk, telling her "he does this all the time".
They told her he was going to sleep in his car.
She took him back to her house, where others from the party were staying, and put him to bed.
The last time she checked on him was at 2am, when he was "really out for the count" but was responsive, groaning and kicking blankets off the bed.
Ms Carter said that when she woke at 7.15am she "could sense death" because the house was quiet and had an eerie feeling.
"As soon as I walked into the room I knew he was dead," she said.
She shook James and touched his neck for a pulse but found him cold and stiff.
Ms Carter dialled 111, and was told an ambulance would be sent.
"I said there is no point - he is dead."
Before she called emergency services she phoned Jacqueline Palmer, whose daughter Jade was the other party host, and told her: "The boy is dead".
Ms Carter said she had relived that night every day since.
"I see James every day from the time I wake up until the time I go to bed. I see him now."
She said the invitation to the party said no alcohol would be allowed and no one would get in without an invitation.
It "didn't cross my mind" that people would smuggle in alcohol.
The club had a bar, but no one under 18 was to be served and parents at the party patrolled the young people to check they were not drinking.
"We took all the steps we could to be responsible parents at the party."
Asked what she would do differently in hindsight, she replied: "I go through this question all the time in my head. Of course I say take him to the hospital."
Jones Palmer, a temporary constable at Manukau police station, drove James to the Carter house. He said the first he knew of any drunken behaviour at the party was when James was carried past him.
Mr Palmer told the court bottles of Jagermeister and another bottle of spirits that was three-quarters empty had been found at the party.
Others at the party had seen James "sculling back the contents of the bottle".
The inquest is expected to finish tomorrow.