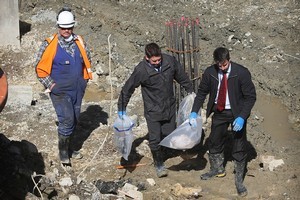 Police investigating the murder of Auckland woman Carmen Thomas have wrapped up their search of a central Auckland construction site and three other Auckland properties and are now awaiting the results of forensic tests.
Among the items being examined by Environmental Science and Research (ESR) forensic scientists is a boat seized from an east Auckland property on Thursday, which is believed to belong to a co-worker of Brad Callaghan, the man accused of Ms Thomas' murder.
Police spokeswoman Noreen Hegarty said at this stage it did not appear anything of significance had been recovered from the Mansons TCLM Victoria St construction site, where Callaghan had worked, but police were still awaiting the results of ESR tests on the hundreds of items recovered from the site.
Police had also concluded their search of Callaghan's property in Remuera, another Remuera property and the east Auckland residence. These would probably be handed back to their owners or occupants today, she said.
Police had still not ruled out further arrests.
Callaghan, Ms Thomas' ex boyfriend and the father of her son, remains in custody and is due to reappear in the Auckland District Court on October 12 to face a charge of murder.
Carmen's mother facing custody snag
Meanwhile Carmen's mother wants to take her grandson Jack to South Africa - but she may face a legal fight to get him there.
Ms Thomas was last seen alive three months ago today and police are still looking for her remains.
Callaghan was arrested last Tuesday, and attention has now turned to the future of his 5-year-old son.
Ms Thomas' mother, Teresa Scott, who lives in South Africa, has written on a Facebook page dedicated to finding Carmen that "Jack is coming home to us".
Another of Ms Thomas' relatives said: "He will be where he belongs ... [with] his loving family."
But family lawyers the Herald contacted say it may not be that easy.
Jack is believed to be living with his father's family, who may have a better chance of getting custody.
Lawyer Graeme Stanton, from Auckland Family Law, said yesterday that a judge considering a custody application from Ms Thomas' mother would consider many complicated factors.
"The best interests of the child are of paramount consideration. It's really a matter of looking at who he knows, where he may be best placed.
"There's the fact that he lived in New Zealand all his life, and I guess they would look at the degree of contact there's been between him and the respective claimants to have his day-to-day care, [to see] who he's going to be comfortable with."
Anyone wanting custody would have to persuade the court that it was in Jack's best interests to be with them rather than somebody else.
A mutual friend of the former couple has described the relationship between Ms Thomas and Callaghan as volatile, and said they had broken up before Ms Thomas discovered she was pregnant while in Britain.
They tried to get back together, but it didn't work out and Callaghan returned to New Zealand, followed soon after by Ms Thomas and baby Jack.
Mr Stanton said a custody dispute could be handled quickly because new Family Court procedures gave priority to the hearing of custody applications.
It was likely an interim custody order would be made before permanent arrangements were decided.
If Callaghan were acquitted of the murder charge, he would not automatically get custody of his son.
"Even if the father had been acquitted, if there were still serious suspicions about his involvement or evidence to indicate his involvement, then that could be a negative factor.
"The courts are very careful to protect the child. Mud can stick even if the conviction's not there."
Qian Xun Xue - the little Auckland girl who became known as Pumpkin after she was dumped by her father at a train station in Melbourne - was put into the guardianship of her grandmother and moved to China.
She was abandoned after her father, Nai Yin Xue, killed his wife - the little girl's mother, Anan Liu - and fled New Zealand.
At the Family Court hearing, Judge Peter Boshier said: "Given the indescribably sad events which have seen her abandoned and then deprived of her mother, I can think of no better solution than to permit her to now be nurtured and deeply loved by her grandmother."
Meanwhile, Callaghan's pregnant fiancee, Tanith Butler, has been interviewed by detectives.
Until Callaghan's arrest, she had been helping to look after Jack.
DECIDING FACTORS
What the Family Court considers when awarding custody:
* How well a child knows the person.
* How comfortable the child is with them.
* The age of the applicant and the long-term care they can provide.
* Whether the applicant will allow the child contact with other important people in his or her life.