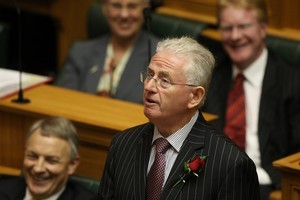 Former finance minister Michael Cullen will take over from former prime minister Jim Bolger as chairman of New Zealand Post from November 1, State Owned Enterprises (SOE) Minister Simon Power confirmed today.
Dr Cullen has served on the NZ Post board since May last year, and has been deputy chairman since November. The latest appointment was tipped earlier this year.
"Mr Bolger has been a strong leader for NZ Post since November 2001, and I thank him for his dedicated service over that time," Mr Power said today.
"I look forward to working with Dr Cullen to develop NZ Post's strategy to accommodate declining mail volumes and a challenging financial environment."
Other appointments of SOE chairs announced today included Mark Verbiest replacing Wayne Brown at Transpower and Janine Smith replacing John Spencer at AsureQuality.
New directorship announcements are: Hamish Stevens on AsureQuality, Rob Fisher on Genesis, John Allen and Debbie Birch on Kordia, Parekawhia McLean on Mighty River Power, Greg Cross and Carolyn Harkess on MetService, Alan Dunn and Jackie Lloyd on NZ Post, Michelle Smith on Solid Energy and Maury Leyland on Transpower.
- NZPA