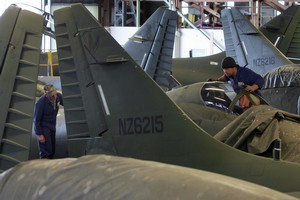 The Defence Force's mothballed Skyhawk jets could be museum pieces after tomorrow unless a concrete offer is made, and Prime Minister John Key says one may even be given to Australia.
The 17 Skyhawks and 17 Aermacchi trainers have for several years been on the radar of US company Tactical Air Services (TAS) which has struggled to raise funds and a deal has never been closed.
The US State Department approved the sale of the aircraft to TAS but that approval is due to expire tomorrow, Defence Minister Wayne Mapp said today.
He said it was the purchaser's responsibility to apply to the State Department for an extension, but he didn't appear confident of a deal.
"The reality is that they have got a very limited period of time which to have a respectable deal or we will have to have other alternatives," he said.
"The purchaser has to either buy them or we have to come up with another plan that is most likely museum pieces."
The Skyhawks date back to the 1960s and Dr Mapp said that meant they were near the end of their lives, while the mothballed Aermacchis were from the 1980s and could potentially be split and sold separately.
The man behind the supposed deal, TAS principal and former fighter pilot Larry "Hoss" Pearson, last week told NZPA he was confident it would go ahead "very soon" but on advice from his lawyer wouldn't be more specific.
The jets were decommissioned by the Labour government in 2001 but have still cost the taxpayer millions to maintain and keep in a saleable condition, and Dr Mapp said Labour needed to take responsibility for that. "They are the ones who thought they could sell effectively 45 year old aircraft, that has proven not to be the case."
Labour had them on the books at $155 million and said in 2005 a deal had been done with TAS to sell them at that price.
Questioned about whether the buyer was credible, Labour leader Phil Goff said today he believed that was the case as long the company had access to funding.
"We got the Defence Department and State Department to approve this sale, but the buyer hasn't been able to find a cornerstone shareholder, and I guess that has something to do with the global financial crisis in the United States."
Prime Minister John Key said the jets had presented a long-standing problem and frustration for the Government.
"The reality is that even if we could sell them there has been an enormous cost actually in refurbishing them and getting them up and running again..."
Mr Key said there was a possibility some of the Skyhawks could go to clubs around New Zealand and one might even be given to Australia.
"I think it's just historic, I think they would like to have one in their collection over there and I think it would be a nice gesture on our part. Let's face it, there are not a lot of buyers clambering all over them."
- NZPA