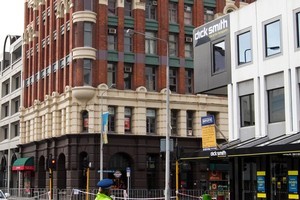 Canterbury's heritage buildings damaged in the September 4 earthquake will get up to $10 million for restoration work from the Government.
The funding was announced by Arts Culture and Heritage Minister Christopher Finlayson, standing in front of the damaged Arts Centre in Christchurch's central city today.
"The heritage buildings are extremely important and we want to do our bit to see them restored. The Historic Places Trust has been working very hard to assess the level of damage and I'm very proud of the work they have done," he said.
"The earthquake caused significant damage to many heritage and character buildings. The cost of their repair and restoration will be considerable, and it is appropriate that Government assists with local rebuilding and strengthening efforts to preserve this history."
The Government would work with the Canterbury mayors to distribute the money to where it was needed, Mr Finlayson said.
The final cost of the damage to heritage buildings in the Canterbury region is still not clear as aftershocks continue almost two weeks after the initial magnitude 7.1 quake.
Christchurch Mayor Bob Parker said the $10m was a serious start towards restoration but it was for all of Canterbury not just Christchurch city.
"We will be taking this appeal global as well as there is huge interest in our buildings," he said.
The New Zealand Historic Places Trust (NZHPT) said it was delighted with the funding, which chief executive Bruce Chapman which would add certainty to, and strengthen the resolve of, heritage building owners committed to restoration and strengthening following the earthquake.
Earlier this week the NZHPT agreed to contribute $250,000 to the fund.
"The Government's financial commitment recognises the value of our built heritage and the high regard with which heritage is held by the wider community," Mr Chapman said.
- NZPA