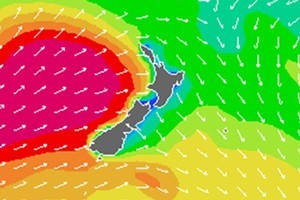 New Zealand is in the path of one of the biggest storms on the planet which is due to hit today.
Strong gales are forecast in many North Island areas and heavy snow in the south.
Weather Watch head analyst Philip Duncan last night warned that the weather system - which has cut power in Tasmania and battered the island state - would last for at least a couple of days.
"A lot of people thought Thursday was nothing," he said. "But it hasn't even hit yet. It's just going to get gradually worse, it's just kicking in.
"There's going to be a lot of strong winds, lumpy shower clouds, heavy rain and hail and possibly even tornadoes."
The tornadoes were most likely to strike the Taranaki and in Whangarei areas.
The MetService has issued severe weather warnings for the whole country as the storm - which is the size of Australia - passes over.
Weather contacts:
MetService
Weatherwatch
Getthru
Civil Defence
NZ Transport Agency
AA roadwatch
Strong or gale-force winds are expected throughout the North Island with severe northwesterly gales predicted about northern and eastern areas, as well as Wellington and the Marlborough Sounds - where winds could reach 130km/h.
Winds of 120km/h are likely in the northern half of the North Island, accompanied by heavy squally showers and thunderstorms in western areas.
There is the possibility of hail in Auckland.
Heavy rain is likely for the ranges of Westland, Buller, northwest Nelson and the central North Island.
MetService warned snow could fall to 100-200 metres in south Westland and Fiordland, potentially affecting Te Anau, Manapouri and Monowai as well as higher roads and passes.
Heavy rain is expected about the ranges of Buller, northwest Nelson as well as the central North Island high country where it could turn to snow above 800 metres. The forecaster warned that rivers and streams in these areas as well as Canterbury and Otago could rise rapidly.
People are advised to be careful while out and about and to cut down on travel.
Those planning to travel on the Desert Rd should be careful of heavy snowfall in the area, and drive to the conditions.
Similar warnings have also been issued to those planning sea trips, while the New Zealand Mountain Safety Council has advised those planning trips in the outdoors to hold off until the weather has eased.
Mr Duncan said that the weather would not be as severe as a hurricane or cyclone, partly because the low-pressure system would be spread evenly and over a large area rather than tightly wrapped around a small centre.
Auckland Civil Defence warned Aucklanders to stay up-to-date with weather forecasts over the next 24 hours.
Group Controller Harry O'Rourke said Civil Defence and local authorities were monitoring the situation.
He reminded people to check their emergency kits and plans.
- Additional reporting by NZPA
* Image surf2surf.com