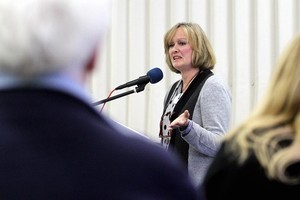 The Government is to oppose a bill that aims to free chickens and pigs from constraining cages.
Green Party MP Sue Kedgley's Animal Welfare Amendment (Treatment of Animals) Bill focuses on tightening the Animal Welfare Act and eliminating loopholes that allow practices such as sow crates and battery hen cages.
Agriculture Minister David Carter said the Government would not be supporting the bill, as it would mean challenges for New Zealand farmers.
"The way the bill has been written is problematic and would probably stop the transportation of any group of animals from a farm to a meat processing company, for example," he said.
"You've got to decide whether you want a pork industry and a chicken industry in New Zealand. If we make it so difficult for farmers to farm chickens and pork, then New Zealand will ultimately rely entirely on imported pork. And we will have no control on the way that pork is farmed in other countries.
It's a matter of being very balanced."
The lack of support will come as a blow to animal welfare advocates who yesterday, alongside comedian Mike King and actress Rose McIver, appealed to all MPs to back the bill.
"What we've ended up with is an act that pretends to protect the interest of animals, but really it protects for the most part the interest of farmers," Ms Kedgley said.
"That's why my bill is so important. It's strengthening the Animal Welfare Act. It's removing the loopholes in the act."
Mr Carter said the Government had an Animal Welfare Act review scheduled for next year.
- NZPA