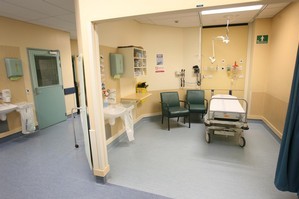 Hospital leaders are braced to hear today if resident medical officers will join the wave of strikes disrupting health services to patients and loading extra work on to other staff.
Talks are due to be held today and tomorrow between district health boards and the Resident Doctors Association, the union representing newly graduated doctors through to senior trainee specialists.
The union has rejected the DHBs' proposed pay rises of 2 per cent for house officers and 4 per cent for registrars - rolled up in a radically altered collective agreement - and has balloted members on industrial action.
Hospital staff and managers are rattled by the possibility of resident doctors striking in the midst of a campaign of walk-outs and industrial action by unions representing radiographers and laboratory workers.
It was uncertain yesterday if the full talks between the boards and the doctors' union would proceed.
The DHBs' spokeswoman, Karen Roach, the chief executive of the Northland board, said they had not reached agreement with the union on the bargaining framework for the talks.
"We hope the unresolved issues can be sorted out and they can go into bargaining."
Union president Dr Curtis Walker said last night that he expected bargaining to proceed.
"The terms and conditions they are offering are quite radical in their cut-backs - and at a time when we are struggling to retain doctors as it is."
The union's Auckland branch said yesterday in a press statement that the Starship children's hospital was critically short-staffed, but denied the statement was linked to the bargaining.
Auckland DHB chief medical officer Dr Margaret Wilsher said some shifts, including night duty, at the Starship had been covered by senior doctors where junior locums were not available, but there had been no reports of patient harm or risk to patient safety."
The DHBs have listed - in publicly released briefing notes for hospital managers - the big changes they want in the national collective agreement covering about 3100 resident medical officers (RMOs).
"The health sector needs to change rapidly and the status quo is not an option for any workforce, including RMOs," the notes say.
"This includes the current MECA [multi-employer collective agreement], which does not deliver the flexibility and accountabilities that DHBs need."
"Clinical leaders and managers believe that the current [agreement] is not a responsive document that supports change and, in some areas, provides the union with a broad right of veto over decisions on the delivery and organisation of services.
"The union's claim includes extension of restrictions around rostering, hours of work, and deployment."
These included, where requested by members, a maximum of 10 consecutive days on duty, followed by four consecutive days off; and no more than one in three weekends rostered on duty.
The DHBs say the current agreement means RMOs are sometimes paid for "a significantly greater number of hours than are actually worked".
They say the union has sought "radical changes" to the pay structure, including "the reintroduction of an 'industrial model' where RMOs would be paid for the hours they work, with overtime after eight hours in any day and penal rates at evenings, nights and weekends".
This model is based on the existing scale, "which already incorporates overtime loadings and margins".
Pay range:
* $52,843 - base salary for first-year house officer working 40-45 hours a week at an urban hospital.
* $172,243 - base salary for registrar with 10 or more years' service working at least 65 hours a week at a non-urban hospital.
- Source: District health boards