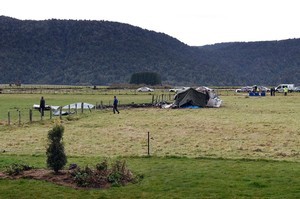 Last Monday in Devon, southwest England, a 600kg hay bale fell off a tractor, rolled down a steep hillside, ploughed through a hedge and smashed into a van travelling along the A3 between Halwell and Totnes, killing the driver instantly.
The victim was 62-year-old Mike Edwards, who played cello for the rock band Electric Light Orchestra for a couple of years in the mid-1970s, before they really hit the big-time.
The odds against anyone, let alone a footnote in Britpop history, being killed by a runaway hay bale while driving along a country road would be astronomical, considerably greater than those against one of our main centres being struck by a major earthquake.
The Canterbury earthquake is, among other things, a reminder of the random, arbitrary nature of life.
Geologists can explain how and why earthquakes happen; they can identify higher-risk regions and likely time frames; they can warn us, sometimes with grim relish, that this wasn't the Big One.
After that, it's fingers crossed.
Edwards was desperately unlucky, an extreme case of being in the wrong place at the wrong time.
If the hay bale had started rolling a second or two earlier or later, he would've escaped without a scratch.
Cantabrians, on the other hand, were lucky: wrong place, but the timing could hardly have been more fortuitous.
As a result the quake had all the hallmarks of a catastrophe except a body count.
Given that unexpected, public, violent death normally has premium news value, it was bitterly ironic that the fatal plane crash at Fox Glacier should have happened on one of the very few days in recent history when nine people dying in the same accident wasn't a big enough story to dominate the news.
The media reacted to the absence of fatalities rather as the Bush Administration reacted to the United Nations inspectors' failure to find any evidence of weapons of mass destruction in Iraq: they refused to let it make any difference.
Perhaps the starkest example of this was the Herald on Sunday's front page headline: "Doomsday".
Doomsday has two meanings. It can mean the day when the world ends and God delivers his Last Judgment on each and every one of us, separating the wheat from the chaff.
The wheat goes into the granary - ie, heaven - while the chaff burns in the unquenchable fire.
Clearly that wasn't what the HoS had in mind.
Doomsday can also be the time when people's past mistakes or misdeeds catch up with them.
For instance, in American fundamentalist Christian circles there were suggestions that 9/11 was New York's doomsday, payback for becoming a centre of immorality and decadence, especially homosexuality.
Curiously enough ferocious homophobia is something Islamist militants and fundamentalist Christians have in common.
Even more curious is the number of strident anti-gay campaigners who become - how can I put this? - entangled in the homosexual milieu.
The latest to do so is George Rekers, an ordained Southern Baptist minister and psychologist known for his advocacy of conversion therapy to "cure" gay men.
In May Rekers hired as his travelling companion for a trip to Europe a male prostitute he found on Rentboy.com.
The reverend claimed they shared the gospel; the rent boy claimed they shared nude massages.
I think we can safely discount the possibility that the Herald on Sunday regards Christchurch as a Sodom on the Avon which asked for everything it got.
Like the rest of us, they were probably just struggling to get their heads around this earth-shattering event.
Armed with dramatic footage, television went for quantity rather than quality.
Like the generic squalid Mexican pig farm that featured heavily in coverage of the swine flu scare, various shots of crumbling Christchurch became as familiar as the December scene in last year's calendar.
In a strange way the earthquake anchors us in the international community, more so than tourism or having our scenery star in Hollywood blockbusters or even the internet.
We share the risk of natural disaster leading to displacement, suffering and tragedy with every other nation, although some - we have the good fortune to be one - are better placed literally and figuratively than others.
In the past two months Papua New Guinea, the Philippines, Vanuatu and Ecuador have also suffered earthquakes measuring 7-plus on the Richter scale.
This year earthquakes have caused significant loss of life in China, Chile and Turkey, in addition to the horror visited upon Haiti.
It's discomfiting to think about what might have been had this earthquake happened a few hours earlier or later.
As we count our blessings and look after our own, we could spare a thought for those parts of the world where nature's random violence has caused misery and heartbreak on a scale we can barely imagine.