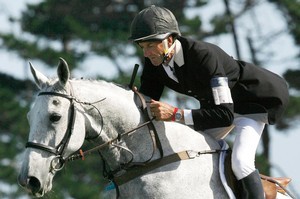 New Zealand will field a quintet with a tasty blend of experienced and new riders for the three-day event at this month's World Equestrian Games in Kentucky.
The two six-time Olympians, Mark Todd and Andrew Nicholson, will spearhead the New Zealand campaign in Lexington, while Clarke Johnstone and Jonathan Paget provide the up-and-coming component.
There are no guarantees, but coach Eric Duvander rates it a good combination, capable of pushing hard for success. These are all young horses and have hardly hit their prime, so they are looking good for [Kentucky] and the London Olympics," he said.
Double Olympic individual champion Todd will ride 10-year-old bay gelding NZB Grass Valley, while Nicholson, the former world No 1-ranked eventer, is in the happy position of having three possible rides.
His first choice is Nereo, a 10-year-old gelding, but he also has Mr Cruise Control and Armada as good quality alternatives should anything go amiss with Nereo leading into competition.
"He's in a good position of having several horses that are very competitive at that level," Duvander said.
Powell, fifth at Badminton this year and ranked No 8 in the world, was at the last Games four years ago, but it will be a first-time experience for Waikato rider Johnstone and Paget, who hails from Wellsford.
The strong, hardy New Zealand horses traditionally hit their straps in the cross-country and jumping phases. The opening dressage phase, requiring the horses to perform dainty, intricate, disciplined movements, is the one they tend to get through as best they can.
Duvander expects a gruelling cross-country layout.
"I've been there several times and it's going to be quite an endurance test, very undulating.
"We know the style of the course-builder [Michael Everington Smith, who built the Hong Kong Olympic course two years ago] so we're halfway there, but the course will remain secret until we arrive."
Horses and riders arrive about a week earlier, with the horses having two days in quarantine.
As for prospects, Duvander is quietly optimistic. "They're all very capable and I've got a lot of confidence in all the riders. The good thing with this group is we've got a good balance and with two new riders who are super-talented.
"Our goal is to step up from Hong Kong [when New Zealand finished fifth], take a step closer to the podium. If that happens this time, great."
Kentucky-bound
New Zealand eventing team for World Games, Kentucky, September 25-October 10:
* Mark Todd and NZB Grass Valley;
* Andrew Nicholson and Nereo;
* Caroline Powell and Mac Macdonald;
* Jonathan Paget and Clifton Promise;
* Clarke Johnstone and Orient Express.