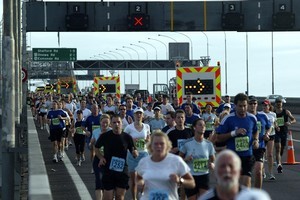 The harbour bridge was an apt backdrop for TV3's Auckland mayoral debate on Monday night, possibly more than the participants realised.
The bridge is a better example of city leadership than I had realised before delving into Herald files for the series on Auckland's history distributed last week.
Readers who have reached the fourth of the five magazines will know a harbour bridge was not the only Auckland transport project waiting for a green light in Wellington soon after World War II.
Auckland at that time also aspired to an underground railway.
The railway featured on a list of national public works priorities published by the Holland Government in 1952.
The bridge did not rate a mention. That same year the Local Authorities' Loans Board blocked the Auckland Harbour Bridge Authority's attempt to raise money for the project on the London market.
Yet Auckland has had a harbour bridge for 50 years and it is still waiting for a rail loop under the city centre. Mayoral aspirants could usefully ponder why the city got one and not the other.
One reason, although not, I suspect, the only one, is that 50 years ago Auckland had a very determined mayor, Sir John Allum, who became chairman of the Bridge Authority.
The bare facts of his battle to overcome powerful resistance not only in Wellington but also in London are catalogued in Auckland Our Story.
Allum must have been a dogged character who no doubt had good connections in the Government, but not good enough to let him build a sufficiently wide bridge. Ultimately, the reason the bridge went ahead, and the railway did not, was probably that Auckland was prepared to pay for one and not the other.
A railway had just as much going for it. Auckland in 1950 was still a compact city. Housing did not yet even cover the isthmus. Much of the eastern suburbs was grazing land, as was Hillsborough, Mt Roskill South and New Windsor.
Somewhat later the railway also had a dogged campaigner, Sir Dove Myer Robinson, who had the better of Allum in the other great civic debate of the 1950s, over the sewage treatment scheme that Allum's Drainage Board wanted to build on Browns Island.
There was always an inevitability about the bridge - proposals had been floated since 1860 - but Aucklanders had no wish to pay for it from rates. Allum lost the mayoralty in 1953 on fears that the city might face the cost of realigning roads for it.
The bridge would be financed from tolls. A royal commission in 1946 had recommended it on that basis and Herald archives contain no opposition to user pays at that time.
Far from complaining at the prospect of tolls, people were moving to the Shore to become daily commuters. Rapid expansion north of the harbour did not start the day the bridge opened in 1959, it began more than 10 years before.
By the early 1960s, when a rail scheme was revived, daily traffic on the bridge was exceeding all predictions and Auckland's die was cast. Trains, as Robbie realised, would have to be fast and frequent to attract commuters from cars.
Those who invoke Robbie to support today's rail plans do him an injustice. An essential element of his "rapid rail" was a widening of the tracks through Auckland so that trains could travel at the speed necessary for economic patronage.
He believed Auckland could afford the full running cost if the Government would install wider rails. But without them, he said, he would not saddle ratepayers with the likely losses.
Herald files record that he was as good as his word. The Kirk Government was elected in 1972 with an Auckland rail scheme in its manifesto but when Works Minister Hugh Watt brought a deal in front of the Auckland Regional Authority, it was on existing tracks. Robbie wanted better.
Nothing more has been heard of a true, wide-track rapid rail. Today's plan settles for narrow tracks. One candidate for the Super City mayoralty, Len Brown, has advocated the underground loop and lines to the airport and North Shore into the bargain.
I have not heard him suggest that Auckland should pay the running costs, either from fares or rates. When he does I will take him seriously.
But at least Brown is making suggestions. John Banks sounds afraid to venture an idea. Neither is looking big enough to lead the united city of previous mayors' dreams.
The Super City will be rich enough and cohesive enough not to depend on Wellington for every big expense. The mayoral contenders should look at the harbour bridge, see what Allum's Auckland achieved and remind voters of an eternal truth: we get what we are prepared to pay for.