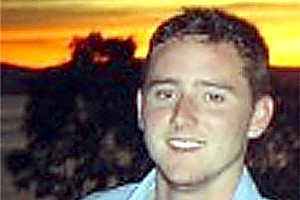 The New Zealander who was the sole survivor of Tuesday's plane crash in Papua New Guinea was discharged from hospital last night.
Kelby Cheyne, 25, originally from Dunedin but now living in Toowoomba, inland from Brisbane, was the co-pilot in the chartered Trans-Air twin-engine jet that slid off a wet runway on Misima Island, killing another New Zealander and three Australians.
Mr Cheyne was believed to have escaped through a cockpit window.
He suffered heavy bruising and was initially taken to Misima District Hospital, but on Wednesday was flown to the PNG capital, Port Moresby, and then on to Townsville Hospital in north Queensland.
A hospital nurse manager told the Herald last night that Mr Cheyne was discharged about 6pm.
Earlier, his sister Selena Cheyne said she felt "utter disbelief and hopeful relief" when she heard her brother had survived.
"It's been crazy," she told the Australian newspaper.
"There's been a lot of mixed reports but he's only got severe bruising, he doesn't have a broken leg. Then there are the psychological scars."
Ms Cheyne, who was planning to travel to Townsville to be with her brother, said he had been an aviator for years but had been nervous about flying in Papua New Guinea.
"He was concerned about safety, but he never showed any fear," she said.
The New Zealander who died in the crash, who had not been named last night, worked for medevac company International SOS.
The company's Australasian chief, Michael Gardner, said it was deeply saddened by the fatalities.
"Our thoughts are with our colleague's family and friends, as well as with the families of those impacted by the accident," he said.
"International SOS is in constant contact with the immediate family and will continue to provide ongoing support to them and our employees as they cope with this tragedy."
The Australians killed were Trans-Air part-owner Les Wright, Sydney-based marine pilot Chris Hart and Darren Moore from Western Australia.
The Civil Aviation Authority of Papua New Guinea is investigating the crash and said it had recovered the flight recorder from the plane.
Sergeant Dick Wadnawi of the Misima police said rescue efforts were hindered by the officers not having firefighting equipment and they could only watch the plane burn.
"We couldn't get close because of the heat and we were scared of the explosions and the smoke," he said. "If we had [firefighting equipment], we could have got closer."
The air safety director of the Civil Aviation Authority of Papua New Guinea, Wilson Sagati, would not comment on the lack of firefighting equipment and said investigations were continuing.
- additional reporting: AP, NZPA