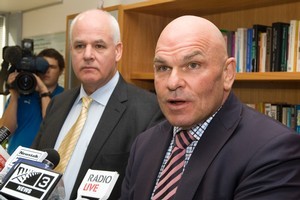 Confidential and leaked documents of Heather Roy's statement to the Act caucus when she was dumped as deputy leader portray Act leader Rodney Hide as an abusive, intimidating bully who had been trying to discredit and humiliate Roy into quitting for months.
The 80-odd pages of speech notes obtained by the Herald outline Roy's defence of allegations against caucus concerns about her behaviour, and are an attack on Hide's leadership in a heated caucus meeting yesterday to try and save her deputy leadership.
She paints a picture of a fractured party that has been consumed by in-fighting while pretending to be unified.
In her speech, Roy pleaded her colleagues to keep the status quo and seek outside help to grow as a team and regain a collegial spirit. She said that she had the "guts to do what's right" and challenged her colleagues to do the same.
"I am a competent minister. I have not embarrassed Act."
But Roy was displaced as deputy leader by John Boscawen and stripped of her ministerial portfolios of consumer affairs, associate defence and associate education.
In a statement this evening, Roy said she would remain in Parliament as a member of the Act caucus.
"The Act Party believes in democracy - John Boscawen had more votes than I in caucus and I have congratulated him on his election to the post."
On August 3, Hide raised allegations of misconduct and accused Roy of being a poor performer as a minister and the party's deputy leader. Roy was absent at the meeting.
At an emergency meeting two days later, when Boscawen officially gave notice of his intention to challenge the deputy leadership, Hide outlined six specific and four broad allegations against Roy, including "grave concerns" about her behaviour.
The broad allegations were: Act positions were stated without consultation with the leader, caucus or board; Roy had made a complaint about not wanting to meet with Hide; and that Roy had laid a formal complaint about breach of security against Hide.
Based on these, Roy was expected to face a censure motion at yesterday's meeting, but this was dropped because it was considered that a challenge to the deputy leadership was sufficient.
But Roy had taken notes of the allegations and decided to formally rebut them at yesterday's meeting.
She stated that she had been the victim of "Rodney's vendetta" and that, since last November, Hide "has been determined to discredit me, irrespective of the effect on the party and our contribution to Government".
"I have received many reports of his agenda being to humiliate and discredit me so as to have grounds to place me well down the party list at the next list selection meeting."
She said Hide had spoken to Defence Minister Wayne Mapp and tried to have her removed as Associate Defence Minister, to which Mapp "protested vigorously".
"It is very difficult for me to work when my own leader is determined to undermine me ... and it is very clear to me that he has used others to further this agenda."
She said she did not refuse to meet Hide, but only wanted to bring another person to the meeting with her.
"He routinely tries to bully and intimidate me and this is not conducive to a good working relationship. There was an instance recently where he was extremely angry at my staff, characterised by shouting abuse in offices and also as he stormed up and down the corridor.
"Since the November publicity over his taxpayer-funded travel, he has barely spoken to me and at many of the meetings we have had, he has indicated that I am not performing to the level he would expect ... his tone during these discussions is menacing."
She said the party president Michael Crozier thought it was fair to ask for another person to be present at the meetings between her and Hide.
She did not make a formal complaint about Hide taking a defence document from her office, but said she made an inquiry as to how she should have handled the matter.
"I was concerned he would take the paper away and copy it, which is why I said he could read it in my office, but not take it away.
"His purpose for wanting the document was to use it in a witch hunt against me."
Roy was informed that she was perfectly entitled to take advice in that way, she said.
The Departmental Security Officer later wrote to her to say that there was no security breach when Hide took a defence document from Roy's office.
"All ministers are part of the executive and there is a fundamental assumption of trust and confidentiality between ministers when exchanging information in the collective governance environment that makes up the executive," the letter said.
Roy pleaded to her caucus colleagues to maintain the status quo.
"Act sees team leadership as primitive combat, with a need to destroy a colleague's reputation to justify an otherwise inexplicable decision."
If ousted, the public will confirm "prejudices about the nasty party, comprised of bullies".
"I believe the right thing to do is to maintain the status quo ... This should be followed by a constructive, well-managed process of continuous improvement, facilitated by experts as necessary, so that we can all rediscover our collegial spirit and improve individually as a team.
"I have the guts to do what's right. I hope that you can each find that within yourself also."
In a letter to caucus chair David Garrett and party president Michael Crozier last week, Roy said that the relationship between her and the leader was "tense".
"It has become obvious by his actions that he has set upon a path to establish a foundation for humiliating me. After John announced his challenge for the deputy leadership at the end of the meeting, I realised that the intent to humiliate might have been thought merely necessary preparation, perhaps in the hope that I might fold my tent and walk.
"An unhealthy culture has emerged, characterised by combative interpersonal relationships, innuendo and side-deals, which is destructive to the integrity of the caucus as a whole.
"You should be aware that events since the 11 August meeting have borne out my concerns about the leader's particular recent abuse of power and interference in my ministerial functions involving third parties."
In an email to Hide on July 21, Roy informed him that she wanted to bring another person along to their monthly meetings.
"At the last few meetings I have found you confrontational and aggressive. In the interests of my safety I am no longer happy attending these alone. [Chief of staff] Peter Keenan has been present at some of these meetings, the subject matter has been pre-rehearsed and he is obviously there to back you up on points you wish to make. This creates an intimidating atmosphere and I feel I am in a disadvantaged position."
Hide responded: "I am sorry to feel the way you do. We won't meet. We can cover all the issues at caucus and at the board."
- with NZPA