As Auckland merges to create a supercity, the Herald looks back at how Auckland has changed over the years. Click here to view the full series.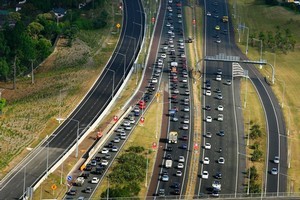 Auckland changed remarkably in the decades after World War II. Its transformation can be attributed to two main developments - migration and motorways.
First, Maori began to migrate in significant numbers from rural
ancestral areas to cities, particularly Auckland. At the same time,
New Zealand opened its doors to migration from the Pacific and
Auckland rapidly became Polynesia's largest city.
By the time the Harbour Bridge opened in 1959 it was destined to become part of a new kind of highway. Dedicated "motorways" were designed to carry traffic quickly from all corners of the city and, eventually, right through the city without meeting a traffic light.
The southern motorway started at the edge of the city and went south to before starting its much more costly and destructive path north through
established suburbs. Meanwhile, the western motorway was starting with a causeway to Te Atatu that would change the shape of West Auckland.
Urban sprawl, planners called it, as they formed new land zoning authorities to try to control it and drew up public transport schemes to try to counter the attractions of the private car. In the years of Auckland's post-war sprawl, the car prevailed.