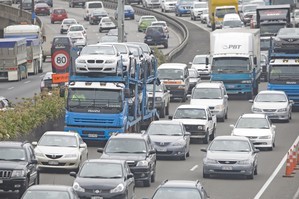 Transport officials orchestrating New Zealand's biggest motorway closure have painful memories of one of Auckland's worst traffic jams, during roadworks on Mangere Bridge four years ago.
These have loomed large behind a strategy of giving drivers plenty of warning about the closure of all southbound lanes across Newmarket Viaduct for up to 36 hours from 5pm on Saturday, September 4.
"Lessons were learnt about building public awareness to suppress the [traffic] demand," Transport Agency regional highways manager Tommy Parker said in reference to the Mangere Bridge closure, when thousands of motorists stewed for hours on a detour route around Manukau Harbour on a hot February weekend in 2006.
Former Manukau Mayor Sir Barry Curtis accused the agency's predecessor, Transit NZ, of not having an effective communications strategy early enough to warn drivers away from the area during the closure of the bridge's northbound lanes for the replacement of heavy expansion joints.
What had already been intolerable delays were aggravated by a fatal truck crash on the detour route.
"They created mayhem and chaos on the streets of Manukau," said Sir Barry at the time.
"The whole place was congested, people from overseas were leaving Auckland International Airport and finishing up in the Mangere village shopping area and getting out and asking people: How the hell do we get to downtown Auckland?"
A schedule of subsequent bridge closures was delayed and reorganised, and Manukau was blitzed with 130,000 leaflets and community groups were enlisted to spread the word, as is happening for the Newmarket Viaduct operation.
The Manukau campaign succeeded in keeping enough drivers away from the area to avert further major delays.
Traffic planners face an even tougher task on the Southern Motorway, especially on Sunday, September 5, a day when more than 60,000 vehicles would normally be expected to use the viaduct's southbound lanes.
That makes the exercise the biggest motorway closure ever imposed in New Zealand.
Although the $215 million project to replace the viaduct has until now caused little disruption, the southbound lanes need closing to prepare for traffic to be switched from the existing carriageway to a new structure which has just been built immediately to its north.
This time, the planners have the social networking sites Facebook and Twitter as well as their own website and a budget of about $100,000 for more traditional advertising.
Emails are also urging Aucklanders to leave their cars at home where possible or keep trips very localised.
Travelling home from major sports events such as a netball test match at Vector Area and provincial rugby games at Eden Park and North Harbour Stadium may be difficult, but the Transport Agency's construction consortium is compiling a list of local events to help to keep Aucklanders close to home.
A battery of electronic road signs will urge drivers to turn off the Southern Motorway well north of the viaduct, although the agency is working on a two-lane detour through Newmarket from the Gillies Ave off-ramp for those who ignore the warnings.
DATES AND DETOURS
*Southbound lanes of Southern Motorway will be closed from 5pm Saturday, September 4, and all day Sunday September 5.
*Motorists are advised to travel by car only if necessary over this period, especially on the Sunday.
*Either switch your mode of transport or keep your travel very local.
*For detours maps and more information go to: nzta.govt.nz/projects/newmarketconnection