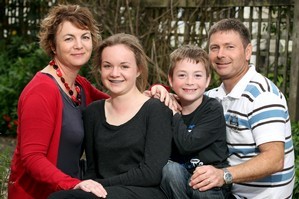 Kiwi parents' biggest fear is that their children will spiral into drug and alcohol addiction, a survey has found.
One in four parents said their biggest concern for their kids' welfare was exposure to Class A drugs, such as pure methamphetamine, and binge drinking.
The survey of 500 parents, carried out for the Herald on Sunday, found that falling in with the wrong crowd was parents' next biggest worry.
One in five, or 21 per cent, said that peer pressure to go along with their friends was their greatest fear.
Parents who identified drugs as their major concern said "P" was the big fear.
The survey results come a week after an 18-year-old AUT student fell six or seven stories from a carpark building in Albert St, central Auckland, after a night out taking alcohol and ecstasy.
Mandy Hebben, a 41-year-old mother of two from Glen Eden, said: "When you're a child you are 6ft tall and bullet proof and nothing is going to stop you.
"P is such an insidious drug. Children think 'it's not going to happen to me'.
"They don't understand what addiction is." Hebben gave her 17-year-old daughter a few bottles of ready-to-drink (RTD) alcoholic beverages to take to parties but said she was "absolutely horrified" by the amount of alcohol some other parents gave to their kids.
"They will have a 40-ounce of vodka and a six-pack of RTDs to take to the afterball."
The spectre of drugs is even a concern for parents of preteen children.
Another parent, Gordon Jones, 49, who had two girls aged 8 and 12, said: "We have got what appears to be an unstoppable train from about 15 onwards where young teenagers are getting caught up with Class A.
"There is no real warning sign with P, it just creeps up and it is so readily available. There is such widespread usage, it's a real worry.
"I would be a hell of a lot happier if I found out that the supply chain was cut right back."
Karla Fisher, 39, an advertising executive from Westmere, said drugs were the major concern for her 3-year-old daughter.
"P is incredibly addictive. It is very accessible. From my own experience, we start experimenting in the early teenage years but I feel like that's getting younger these days. There is a floodgate effect."
Parent Gail Tasker believed that her children falling in with the wrong crowd was the biggest danger.
The 43-year-old from Lynfield, who has a 15-year-old girl and a 9-year-old son, said children faced the most pressure when reaching high school.
"Intermediate was more about having the same clothes as everyone else, but high school becomes mixing with the right people and they become the most important people in kids' lives.
"All they are really concerned about is what their friends are thinking and saying. They all have Facebook, MSN and cell phones. Everybody's feelings are out there and before you know it you've exposed yourself to a whole lot of people. That can work against you."
Tasker said she made sure that she got to know all of the other parents in her daughter's circle of friends.
"I am a bit of a control freak so I make sure I know where she is at all times. We are in constant cellphone contact if she is away for the night."
"We just have to try and keep talking to them and instill in them the values that we want them to have."
Educational psychologist Rose Blackett said that parents should allow their kids to take small risks when they were younger to prepare them for when they were offered illicit substances.
"We do need to give our children responsibility. Parents are not there at that moment when they are exposed to drugs and alcohol.
"My two teenage children both talk to me about what a lot of their friends are up to. I think being open and talking to your children is huge."
Blackett said that the majority of the parents she spoke to were most concerned with their children achieving in school.