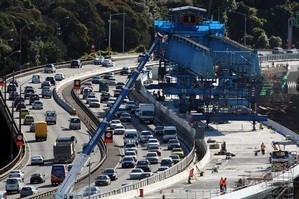 Transport authorities are going to extraordinary lengths to warn Aucklanders to stay off city roads during a 36-hour closure of all southbound motorway lanes on Newmarket Viaduct early next month.
A consortium building the $215 million replacement viaduct has said in an email to schools that to prevent major disruption on arterial roads on the weekend of the southbound closure - from 5pm on Saturday, September 4 - it will be "essential to avoid driving anywhere in Auckland unless absolutely essential".
The Transport Agency predicts the closure - to prepare for three lanes of a new southbound viaduct carriageway to carry traffic from September 6 - will cause "significant delays throughout Auckland's road network".
Agency state highways manager Tommy Parker said though the email may have been "a little bit of an overstatement", local roads would certainly be unable to cope with the 80,000 vehicles which travelled south on the viaduct on normal Sundays.
"We are requesting people not to travel," he said. The Auckland Regional Transport Authority is promising extra rail services during the closure and Auckland City is considering an agency request for temporary parking restrictions along detour routes.
The closure weekend will include a netball test between the Silver Ferns and Australia at Vector Arena and provincial rugby matches at Eden Park and North Harbour Stadium are also scheduled for that weekend.
But the agency is promoting the Southwestern Motorway from Mt Roskill to Manukau City as a viable alternative route.
North Shore commuters will also face a difficult three months from August 23, when the Wellington St on-ramp to State Highway 1 is closed to allow work on the southern approach to the Victoria Park tunnel.
The three-month closure will raise separate challenges for the agency, which is urging commuters to consider changing their travel times to avoid 4-6pm traffic peaks.
The agency had decided to close the ramp for a concentrated period so it could finish the work before the Christmas rush.
ROAD RUCTIONS
August 23 (to end November): Wellington St on-ramp to Northern Motorway closed.
September 4 (for 36 hours): Newmarket Viaduct southbound lanes to close to prepare for switch to new structure.
ON THE WEB
www.nzta.govt.nz/projects/newmarketconnection/index.html