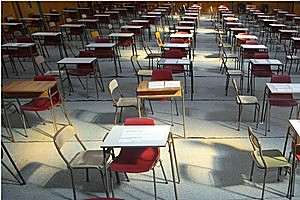 Nearly 100,000 pupils have been stood down or suspended from New Zealand schools for drug use, verbal and physical assaults, latest figures show.
Statistics released under the Official Information Act reveal 81,521 students have been stood down and 16,145 suspended from schools since 2007.
The Ministry of Education figures show the main reasons include students being disciplined for continual disobedience, physical assaults on other students and verbally assaulting staff members.
The ministry has a $60 million initiative called Positive Behaviour for Learning to train parents and teachers on how to deal with behavioural issues. It plans to have training information for the programme in 400 schools by 2014.
The number of students stood down or suspended for drug use has been increasing since 2007.
In 2007, 1017 students were stood down and 942 suspended for drugs use and substance abuse.
By 2009 this had jumped to 1420 being stood down and 1074 suspended.
But despite these increases, ministry staff said the overall figure for stand-downs had decreased 10 per cent since 2006 and suspensions had decreased 16 per cent.
Auckland's Massey High School tops the list for the most students stood down, with 328 in 2007, 309 in 2008 and 361 last year. So far this year, it has stood 192 students down.
Auckland's Avondale High School had 79 suspensions in 2007 - the highest annual total between 2007 and this year.
In 2008, the highest number of suspended students came from Wellington's Makoura College (46), while last year Auckland's Kaipara College suspended 57 students.
Western Heights High School, Bay of Plenty has the highest number of suspensions so far this year (39).
Students who are stood down are removed from the school for no more than five days in a term or 10 days in a year. A suspension can be lifted only by the board of trustees, which can place conditions on the student's return to school.
Secondary Principals Association president Patrick Walsh said standing down pupils was useful but many students viewed it as a holiday.
Walsh said principals were mainly concerned about attacks on staff, weapons being brought to school and the increase in drug use.
Massey High School principal Bruce Ritchie said he stood down a high number of students as a restorative measure, allowing the student's family to work with the school on improving behaviour.
He believed this was a powerful tool in helping to change antisocial behaviour and keep students in school, rather than letting issues escalate to the point of exclusion or expulsion.
"A stand-down is a disciplinary process, like a yellow card used in sport," said Ritchie. "We have a low level of tolerance and set a high standards of expectations for our students."