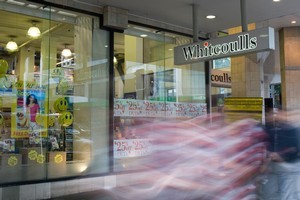 A battle of the books is brewing between retailer Whitcoulls and companies that provide the product it sells.
One publisher has confirmed it temporarily stopped supplying books because of payment disputes, and others are hinting at trouble.
But Malcolm Neil, a spokesman for REDgroup which owns Whitcoulls and Borders, denied there were problems. "One thing I have learned is people like to talk about others' business."
However, David Joel, managing director of Macmillan Publishers New Zealand, confirmed his company had stopped trade with Whitcoulls for 10 days in recent months.
He said the dispute was over the book retailer trying to drag out the payment period. "REDgroup always want to extract better terms from us," Joel said. "Whether it was a wise decision or not we are yet to see but it meant we were paid. It is the cut and thrust of the game."
Most publishers refused to put their name to comments about Whitcoulls and REDgroup Retail as Whitcoulls and Borders are the country's largest book retailers and their biggest customers.
However, insiders said Macmillan was not the only one to temporarily stop trading with Whitcoulls. Random House was alleged to have been another, but its managing director Karen Ferns did not return calls.
Other publishing company heads said Whitcoulls and Borders had been returning large numbers of books under sale or return agreements to free up cash and immediately order new books.
However, Neil said it would be wrong to say Whitcoulls had not been paying its bills. "As far as New Zealand is concerned, it is doing quite well."
Hachette NZ manager director Kevin Chapman said his firm had had no problems.
Hamish Wright, of Booksellers NZ, said returning books was common practice but it appeared to be an issue of cashflow in this case. "I have heard they are returning boxes and boxes of them."