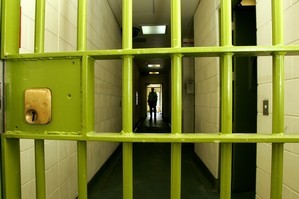 A set of keys went missing for more than 24 hours at Auckland's Mt Eden prison, sparking a security alert.
The jail was locked down while corrections officers conducted a cell-by-cell search but failed to find the keys.
Prisoners being transported to Paremoremo and Spring Hill maximum security prisons were searched last Wednesday.
The missing keys were recovered only when a prison officer arrived for work the following day.
Prison bosses said the loss of keys was rare and they were confident they never fell into an inmate's hands.
But a source described the security scare as "a cock-up and a half" and said the set could have been copied and passed to an inmate.
The guard, who declined to be named, said: "These were cell keys so anyone could have taken them to get copies.
"If you are handed a key, there is a process to follow. You get a chain and a belt and it's got to be anchored to your person - you can't lose it. I mean even if you forget to take the belt off, you jump into your car and they rattle."
A second prison source said there was speculation inside MtEden that the keys were taken to pass on to a prisoner.
"The worse security risk of that is they have a key but they still have to try and get out. So that is a possibility of a hostage situation if they do so.
"The problem is that there is so many new staff. They are not experienced to deal with this."
Assistant regional manager Grace Smit said the prison had found no evidence that a prisoner had the keys.
"The keys on their own would have been singularly ineffective in jeopardising the safety of the public," she said.
"We are currently reviewing the procedures in place for managing keys.
"To ensure the on-going security of the prison and the safety of the community, we will not disclose our operational security measures."
The Mt Eden complex, which comprises a medium-security men's prison, male remand prison and female remand prison, houses more than 800 inmates.