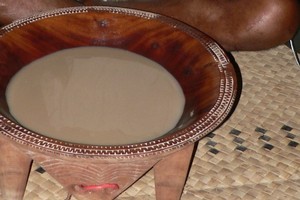 It tastes like muddy water and liniment, John Key reckons.
Kava is a traditional Pacific drink, and the PM's trip to Vanuatu for the Pacific Islands Forum this week is not the first time he's had it.
He can't be that big a fan, however, as he had only one "rapid-fire" bowl of kava at a New Zealand High Commission BBQ in Port Vila on Wednesday night.
"I tried the kava. I wouldn't have nine kavas, in the same way I wouldn't have nine beers," Mr Key told reporters yesterday.
The Prime Minister was referring to his comments about not trusting himself to drive after nine beers, which a Weekend Herald photographer drank over four hours and was still under the legal blood-alcohol limit.
So how did he find the Vanuatu kava?
"At the risk of offending them, slightly better than the Fijian kava, and on a par with Samoa."