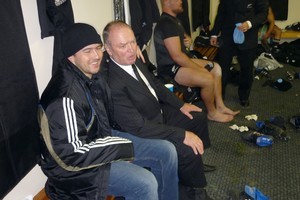 It's a tale of an unlikely friendship between a young man fighting his way back from a devastating injury and the country's top rugby coach.
It might sound like something from a Hollywood film.
But it's a true story, starting with a tragic sporting injury that evolved into a tale of determination, family love and a good dollop of inspiration and support from the All Blacks.
Now Darryl Sabin is on a nickname basis with All Black coach Graham Henry, texts him often and has a permanent spot on the All Blacks' reserve bench.
And while the All Blacks are inspiring the plucky Northland teenager, he is also acting as an inspiration for some of the senior players.
It began when Darryl Sabin, then 18, led his side on to the pitch at Te Hapua, 30km southeast of Cape Reinga, on Anzac Day last year.
He was tackled by an opposition player and received a blow to the head.
He was helped from the field, but his condition quickly deteriorated and he was flown in the Northland Electricity rescue helicopter from the rugby grounds to Whangarei Hospital.
He had a scan and was transferred to Auckland City Hospital, where he had emergency surgery to relieve the swelling on his brain.
His life hung in the balance.
It was while he was in a critical condition in the intensive care unit that All Black coach Henry slipped a note under his pillow.
Henry's brother-in-law was in the next room after surgery for cancer.
While he was at the hospital, Henry became aware of Darryl's serious injuries.
His note read: "As always Darryl give it your best. Onwards and upwards. Ted."
Since then a determined Darryl, during his long journey of rehabilitation, has regularly attended training sessions, watched games and joined the team in the changing rooms for after-match celebrations.
Now Henry describes him as "the All Blacks' number one fan".
Speaking from Australia as the All Blacks prepared to take on the Wallabies on Saturday night, Henry said the progress the "little fella" had made and his attitude and determination were an inspiration for the team.
"He was given very little chance of surviving, let alone the recovery he's made. We have seen the progress from month to month and that in itself is inspirational.
"He's great to have around. For him the glass is always three-quarters full ... he's never down."
Henry said team members were very natural with Darryl and they could relate to him.
"They are of a similar age and they know what he's been through. It's an easy relationship and that's because Darryl is so positive. The guys can see what he has done to get himself back."
Henry said he got texts from Darryl asking him about his team selections - "I tell him to mind his own business."
In February, Henry visited Darryl at his family home in Coopers Beach in the Far North. They watched three Super 14 games and traded ideas.
Now he is on a nickname basis with Henry.
"Yeah, 'Ted', that's what I call him."
Asked what difference Henry has made to his recovery, he is adamant.
"He means the world to me. "He's been immense. He's been there from the moment I went into critical care."
All Black Brad Thorn has told Darryl: "You're an inspiration, mate."
"I told him he was an inspiration," Darryl said. "They've all inspired me immensely."
He is working determinedly to get physically fit and spends up to four hours, five days a week in the gym and can squat 140kg and benchpress 85kg.
He watched from the sideline when the All Blacks beat the Boks at Eden Park and was in the changing room afterwards.
He watched Saturday night's Bledisloe Cup match at home but will travel to Christchurch and take up his spot on the bench for next weekend's second test.
- APN