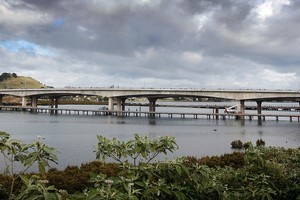 Traffic will start using a duplicate motorway bridge across Auckland's Manukau Harbour tomorrow morning, after thousands of pedestrians swarmed over it yesterday.
Three of the new structure's four southbound lanes will be opened to traffic to allow contractors to refurbish the older adjacent Mangere Bridge, which will be dedicated to citybound vehicles once a $230 million construction project is completed by the end of next month.
Prime Minister John Key, among the first to cross the new 650m bridge with Transport Minister Steven Joyce, said he looked forward to the removal of peak-time traffic congestion which had contributed to his missing a flight from Auckland Airport.
He admitted to spending too much time "mucking around in town" before hitting a "plug" of traffic on the older bridge and arriving at the airport a minute after departure time.
"So I, like everyone, am delighted the bridge has opened because I know that now I'm going to get there in time."
Although the Transport Agency and its contractors still have another four weeks' work before completing the harbour crossing duplication project - which includes widening motorway approaches between Queenstown Rd in Hillsborough and Walmsley Rd in Mangere - yesterday's walkover was combined with a formal opening ceremony.
Mr Joyce praised the agency's Fletcher Construction-led contracting alliance, which includes Beca and Higgins, for accelerating the project by seven months so it will be completed before next year's Rugby World Cup.
He said it would provide "huge relief" for the 80,000 or so motorists who used the State Highway 20 route each day, saving about 20 minutes on journeys between the airport and central Auckland at peak times.
The fast-track construction programme, which began just 28 months ago, compares with almost nine years taken to build the earlier bridge amid industrial disputes before it opened in 1983.
Work begun under a contract by Wilkins and Davies was interrupted for three years from 1978 before Fletcher Construction spent two years completing the job.
As well as enjoying more harmonious relations, the latest project had the advantage of heavier cranes and a low temporary surface bridge across the harbour for easier construction access.
Manukau City Mayor Len Brown, who is campaigning for the Super City leadership, praised a "happy, committed, focused" workforce for building the new bridge so fast but called for similar commitments to building railway links to the airport and elsewhere.
He noted that the bridge had been built strong enough to carry a railway line beneath it, and said the pace and momentum set by the motorway crossing project should become "the driving force for how we go forward in Auckland".
His main competitor for the region's top job, Auckland City Mayor John Banks, said he was "not sure I can feel a campaign speech coming on" but said more infrastructure was being built locally than ever, and the bridge project was "a tribute to everything great about Auckland and this country".
The new bridge has been built with a bus shoulder lane and four southbound general vehicle lanes.
The older structure will be reconfigured to provide the same traffic capacity in the opposite direction.
About 15,000 people took the opportunity of a fine winter's day to walk across the bridge yesterday, at a height of 25m above the Manukau Harbour, and were followed by around 1000 cyclists.
A New Era
* Time taken to build the 1983 bridge across Manukau Harbour: 9 years
* Time to construct the $230 million duplicate crossing: 28 months