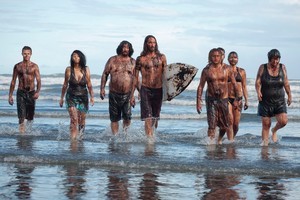 Greenpeace protesters stripped off and covered themselves in fake oil today to voice - or show - their opposition to the Government's deep water oil well plans.
The group hit Muriwai Beach west of Auckland collecting signatures from onlookers for a petition expressing opposition to the Government's plans to sell off the rights to carry out deep water oil drilling all around New Zealand's coast.
About 15,000 people have signed the petition since it was launched a month ago.
Greenpeace says the event was held to send a warning to Energy and Resources Minister Gerry Brownlee about the catastrophic effects his plans have, especially in light of the BP Gulf of Mexico oil disaster.
"About 20 people showed up and we made our point successfully for about an hour," Greenpeace communications officer Jay Harkness told NZPA.
The fake oil was a mixture of molasses and water.
"Greenpeace is concerned about this because deep water drilling technologies are prone to accident," Mr Harkness said.
The group says Mr Brownlee has obviously not learnt from the recent mining fiasco.
- NEWSTALK ZB, NZPA