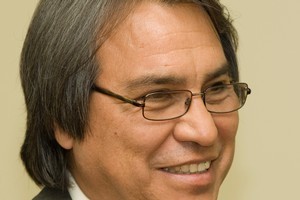 A United Nations human rights expert is visiting New Zealand to prepare a report on race relations.

Today Ngapuhi hosted United Nations special rapporteur James Anaya at Waitangi who spoke to an audience of about 200 people.

Mr Anaya's visit is a follow up on issues reported by his predecessor Rodolfo Stavenhagen, who came to New Zealand five years ago.

Mr Anaya told those gathered that the current repeal of the Foreshore and Seabed Act was a move in the right direction and said the future of Maori was in their own hands.

"I want to find, and I think I am finding, positive steps to build upon, while identifying ongoing challenges," he told TV3.

Maori Party MP Hone Harawira agreed that Maori needed to take a more active role in the road ahead.

"The UN can identify issues but we have to make the changes, to be stronger in ourselves and I think that's part of the message that [Mr Anaya] was giving us" Mr Harawira said to TV3.

However, one member of Ngapuhi, David Rankin, said the visit was an insult that suggested Maori cannot deal with issues themselves.

"It reflects that we have the inability to articulate ourselves and deliver our own message. We can deliver our own message and we deliver it well," he told TV3.

Mr Anaya is in New Zealand for a week and moves on from Waitangi to meet the Maori king tomorrow.
- NZ Herald staff