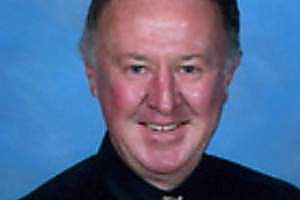 A former schoolteacher trembled in the dock as he was told he abused his position of trust to "groom" two young boys to gratify a sexual fetish.
Michael James Dobbyn, 52 - a cousin of musician Dave Dobbyn - was sentenced to 12 months' home detention and 250 hours' community work when he appeared in the North Shore District Court yesterday.
He faced representative charges for his sexual conduct towards two boys under 16 and for grooming them over a four-year period.
Dobbyn, whose name was suppressed until yesterday, stood red-faced in the dock, clutching first his own hands, then the steel bars in front of him, shaking throughout his 45-minute appearance.
The school he taught at and the dates of the offences remain suppressed to protect Dobbyn's victims.
The court heard how Dobbyn befriended a 10-year-old boy and, later, his 12-year-old friend.
In return for allowing him to suck and lick their toes and feet, Dobbyn gave the boys gifts including food, drinks, clothes and phone top-up cards.
A summary of facts before the court stated that Dobbyn had also given the boys gifts for doing chores around his house and for letting him keep their dirty clothing.
Crown prosecutor Kate Mills told Judge Laurie Hinton that Dobbyn's offending deserved imprisonment.
But defence lawyer John Munro asked for a sentence of home detention because of the "low-level offending".
Dobbyn's 84-year-old mother, with whom he had lived for 18 years, was dependent on him physically and emotionally and might "give up the will to live" if Dobbyn were jailed, he said.
Dobbyn was also at risk because he had made plans to commit suicide and almost had a heart attack when police interviewed him.
Judge Hinton told Dobbyn he had preyed on vulnerable and impressionable children in "persistent, unhealthy and cynical grooming of two young boys for your gratification".
"You had a number of roles - teacher, coach, adult and parent figure.
"You said in your statement to me ... 'I have abused my position of trust as an adult and as a teacher', and that is precisely the point.
"They were entitled to more. Their parents were entitled to more and the community were entitled to more."
Judge Hinton quoted the victim impact statement of the parents of one victim who had become withdrawn and got in trouble with the law himself.
"This man - that is you, Mr Dobbyn, they say - has put their son and the other victim through a hell no child should go through. 'He has put us as a family through a hell which can not ever be forgotten or forgiven'."
Sensible Sentencing Trust spokesman Garth McVicar said Dobbyn's home detention sentence was "inappropriate" and would hardly serve to deter other offenders.