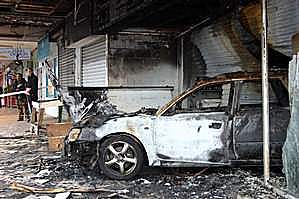 A south Auckland liquor shop was severely damaged by fire when a stolen car was driven into the building and caught on fire in the early hours of this morning, police said.
The stolen Subaru was driven into the store at Northcrest shopping centre in Manurewa just before 2am, in what appears to be a "ram raid gone wrong", said Danny Meade, acting control inspector at the police northern communications centre.
Detective Senior Sergeant Albie Alexander said the car was chased by police about four hours before the ram raid after police saw people pouring liquid around a building.
But Mr Alexander said police lost the car and the chase was abandoned.
He said a second car, seen alongside the stolen subaru, has since been found abandoned in Manurewa.
"Later, at about 2:00am, a passing Police patrol observed the same vehicle reversed into the Manurewa Liquor store roller door. The vehicle at this stage was well alight," Mr Alexander said.
He said it was lucky no one was in the building at the time.
Fire safety officer Robert Watson told NZPA the blaze was mostly confined to the car.
"The fire was probably out in five or ten minutes. There was heavy smoke and heat damage to the liquor store, but the fire was mainly contained within the car," he said.
Mr Alexander said police are looking at CCTV footage and are appealing to anyone with information to come forward.
- NZ Herald staff