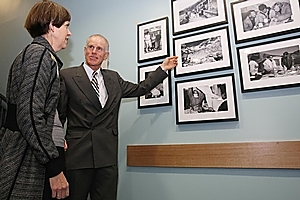 Middlemore Hospital has opened a new $40 million ward with an extra 240 beds designed to cope with South Auckland's population boom. Named the Sir Edmund Hillary Block, it has taken two years to build.
Counties Manukau has the fastest-growing population of any in the country, with an estimated rise of 9000 residents each year, and this rapid increase is putting many health services under strain.
However, Lauren Young, communications manager for the Counties Manukau District Health Board, believes Middlemore is "future-proofed" until at least 2020 thanks to the increased bed space, as well as the changing nature of medical care.
"Future medical care includes more people being cared for at home, more care in the primary [GP] sector and better management of chronic conditions, etc, which we hope will minimise future hospital admissions."
One key feature of the new building is the design of the wards, which gives the hospital ability to increase or decrease the number of beds according to demand.
For example, two 30-bed wards could be changed to one 32-bed ward and one 28-bed ward to better fit with requirements.
Ms Young said the decision to name the building after Sir Ed was made by the staff as a way of honouring him after his death.
"We did a staff survey and they picked the name. We then sought permission of the Hillary family, who were delighted."
The connection with Sir Ed goes beyond the name, with the building's mauri stone being buried on the day of his funeral - January 22, 2008. Yesterday's opening ceremony was attended by members of the Hillary family, including Sir Ed's widow, Lady June, and his children Peter and Sarah.
Prime Minister John Key and Manukau City Mayor Len Brown were also there.
COPING WITH GROWTH
* Population 2006 - 454,580
* Forecast 2026 - 631,320
Hospital beds:
* 2010 - 950
* 2020 - 1500
Source: Population of the Counties Manukau District - from the Counties Manukau District Health Board