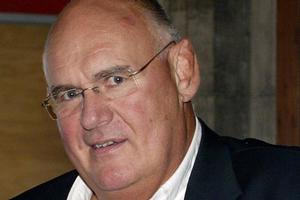 Former All Black Andy Haden's future as a rugby World Cup 2011 ambassador is in serious doubt after he made inappropriate comments about rape.
Haden previously survived a sacking when he apologised for causing offence with his claim on Sky TV's Deaker on Sport programme that the Crusaders rugby franchise had race-based selection policies, which restricted recruiting to only three "darkies".
Now, on the same programme, he has this week commented on historic sex allegations against former All Black Robin Brooke, made by two unnamed women, one of whom subsequently laid a complaint with police.
"There's a bloke called Hugh Grant. He got into a bit of trouble like this and I think if the cheque bounces sometimes, they only realise that they've been raped, you know, sometimes," he said.
Haden said there were two sides to every story.
"It's an equal society now, some of these girls are targeting rugby players and targeting sportsmen and they do so at their peril today, I think."
Rape support groups have hit out at the remarks.
Minister responsible for the Rugby World Cup Murray McCully said he was only made aware about the comments last night and was now considering the issue.
- NZPA