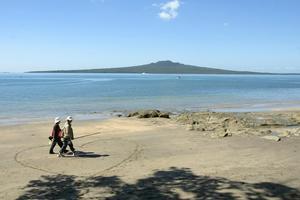 The sea slugs which killed several dogs around the beaches of Auckland's North Shore last year seem to be on their way back.
Surveys of several beaches in Auckland found the slugs near seven coastal areas in the Hauraki Gulf, many of them on the North Shore.
The surveys were held following the deaths and illnesses last year of dogs which consumed sea slugs which contained tetrodoxin.
It was unclear if the slugs found this year also contained tetrodoxin, but the surveys have prompted Auckland Regional Public Health Service (ARPHS) to caution people to watch dogs and children on the beaches, and to ensure nobody ate anything washed up on a Hauraki Gulf beach.
The Auckland Regional Council and Cawthron Institute surveys found 48 sea slugs around the immediate subtidal area around Narrow Neck Beach on the North Shore.
Sixteen sea slugs were also found underwater close to Cheltenham Beach, near Narrow Neck Beach.
There were 14 found near Illiomama Rock, near Rangitoto, while sea slugs were also found underwater at Browns Bay and Long Bay, which are also North Shore beaches on the Hauraki Gulf.
As well, sea slugs were found at the Bayswater mooring, on Waitemata Harbour on the North Shore side, and on the popular Auckland beach of Mission Bay.
Surveys at Omana and Eastern Beach found no sea slugs.
Samples of the slugs have been collected and will be tested for tetrodoxin.
Two dogs died, and others became ill, after eating sea slugs found on the beaches from about July onwards last winter.
Studies of the dead dogs' vomit showed it contained tetrodoxin, which was sourced to several sea slugs.
Eight dolphins also died in the gulf last winter but there was no trace of tetrodoxin found.
An ARPHS spokesman said children and pets needed to be supervised on Hauraki Gulf beaches, and that neither they nor adults should eat anything which washed up on the beaches.
Parents needed to be aware of where children were swimming or playing and what they were handling, the spokesman said.
Anyone who spotted a sea slug should not touch it but should mark the spot and ask for an environmental health officer at the city or district council.
- NZPA