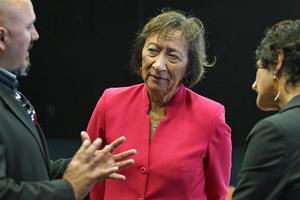 Poor Georgina te Heuheu. It's tough being a Minister of Pacific Island Affairs in a National-led Government.
No matter how many Pacific sporting icons you get to sing your party's praises, sooner or later the maths start to catch up with you.
Like the inconvenient fact that unemployment for Pacific people is more than double what it was under Labour (from 6.3 to 14.4 per cent), that more than half of all Pacific households experience hardship, and so far there's no evidence the economic "recovery" is trickling down to unemployed young Pacific.
After the slim pickings of last year's Budget round, in which new money for Pacific initiatives was conspicuously absent, te Heuheu must have been relieved to finally have something she could crow about this year - a Budget allocation of $4.8 million of new money for projects which would "significantly improve the economic wellbeing of Pacific people in Auckland".
At just over $1 million a year, it was cheap at the price. Who could look such a gift horse in the mouth? Quite a few, as it turns out.
If te Heuheu and her colleagues were surprised at the reaction, they shouldn't have been. The fact that uncontested funding had been earmarked in the Budget for a two-year-old private company that no one had heard of was always going to be problematic.
Indeed, te Heuheu's own ministry had warned in March that the company, the Pacific Economic Development Agency (Peda) posed "significant risks" for the Government. It was "untested and unproven", had "not delivered on projects of any note", and "does not have a good record of working collaboratively with other agencies".
Furthermore, the ministry cautioned: "The inability to tender for an appropriate provider or range of providers capable of delivering these initiatives may be inconsistent with government procurement procedures."
To put it politely. Not so polite have been the unsurprising allegations of backroom deals, jobs for the boys, and political patronage. Which begs the question: What on earth was te Heuheu thinking when she and her ministry made the funding decision - as John Key implied?
Last week it became quite clear that te Heuheu hadn't done much of the thinking at all. Her role had been peripheral at best. The initiative had come from the Finance Minister, Bill English, who seemed unusually reticent about admitting his part.
As te Heuheu told Morning Report in response to questions about the apparent flimsiness of Peda's proposal: "The application is part of the written material that I would imagine that the Minister of Finance received ... but in addition to that, of course, he met with [Peda] on several occasions".
It's obvious from the ministry's advice that its involvement was after the fact. By the time it analysed Peda's proposal in late March, Bill English had already allocated the funds and named Peda as his preferred provider.
Why? The reasons are probably more mundane than most of the conspiracy theories currently in circulation.
Did this have something to do with the National Party endorsements by Michael Jones and Inga Tuigamala at the 2008 general election, as some have suggested?
I doubt it. Jones and Tuigamala have denied that they have any links with Peda or played a part in supporting its funding bid, and there is no reason to doubt them.
More likely this is about English (who has Pacific connections through his wife) being well aware of the need to get some runs on the board, and allowing himself to be persuaded that J.R. Pereira and colleagues were the best for the job. He should have known better.
You can't blame a company for putting itself out there. Pereira says his company pitched its proposal to anyone who would listen. And whatever anyone thinks about them, they seem at least as passionate and sincere about making a difference for Pacific people as their detractors.
Pereira, who shifted to New Zealand in 2001 when his children were starting their tertiary studies here, has been taken aback at the criticism, saying: "Why should we be penalised just because this Government decided to do something different?"
That seems a little naive. As Bill English should have told him, the appearance of political patronage is at least as damaging as the real thing.
In any case, thanks to the controversy, the story has moved on. With Bill English's office saying that the $4.8 million is for Pacific economic development, rather than Peda per se, the Ministry of Pacific Island Affairs is now firmly back in the driver's seat. And it seems determined to put the money to good use, whoever the provider might be.