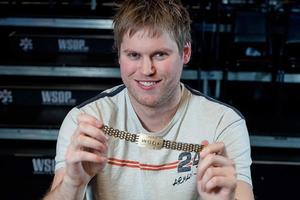 Going against the advice of his parents has paid off for Simon Watt, the first New Zealander to win a World Series of Poker title.
Watt, a 27-year-old software developer from Auckland's North Shore, won US$614,248 ($924,800) at the event - the world's bigger poker tournament - in Las Vegas on Monday night.
He also gained a World Series bracelet, considered the holy grail of the poker world.
Speaking on the World Series of Poker website, the amateur player said he hoped the win would convince his parents his passion for poker was a worthy pursuit.
"My parents, especially my mother, were initially not too keen on my playing poker," he said. "This should help."
Watt battled his way through 148 hands of poker - playing the Texas Hold 'Em variant - over a gruelling 15 hours, squaring off in the final against high-profile professional Tom "Durr" Dwan.
"You just have to concentrate and try and forget how much money you are playing for," he said.
Dwan reportedly bet millions on himself to win the event, yet was ousted by a full house in the final hand.
Watt's best friend, Joe Ellis, was the lone voice supporting him against hundreds of Dwan fans watching the game at the Rio Hotel and Casino.
Watt's winnings will add to the $209,000 he claimed at Auckland's Asia Pacific Poker Tour last year.
While this is his second major prize, he made a World Series first as the only New Zealander to take the top spot in the event's 41-year history.
World Series website editor-in-chief Seth Palansky said: "Guys from New Zealand and Australia are picking up their game. We expect to see more of them over the next couple of years."