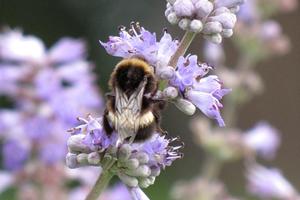 Hand-picked New Zealand bumblebees waiting to be sent to Britain on a pollination "rescue mission" have died in captivity.
Natural England, the British government's countryside agency, chose the short-haired bumblebees from New Zealand because they were descended from a species originally imported from England to pollinate red clovers on South Island farms.
The short-haired bumblebees were declared extinct in Britain a decade ago but less than two weeks before the selected bees were due to be exported for release in the south of England, the consignment died in hibernation, the Guardian newspaper reported.
The bees - scientifically known as Bombus subterraneus - had been bred near Christchurch by the Plant and Food state-owned science company from queens collected by the project's scientist, Dr Nikki Gammans, who had hoped to get at least 50 bees in the first shipment to be exported.
But Natural England said the deaths would only delay the reintroduction project, which was now planned for next summer.
"An expedition to New Zealand will take place this November to collect queen [bees] to rear, and the next generation of queens will be returned to the UK the same time next year for release," an agency spokesman said in a statement.
"Over the next six months, work will concentrate on creating more habitat for bumblebees, perfecting the rearing technique in New Zealand and raising the profile of the importance of bumblebees with local communities. This is a long-term project and we hope for many future releases."
The short-haired bumblebees were transported to New Zealand in the first refrigerated lamb ships in the late 19th century, to pollinate crops of red clover to help new emigrant farmers.
They have clung on in small numbers, but are unprotected and under threat.
Populations of bumblebees and other pollinating insects have declined in Britain in recent years as their wildflower habitat is eradicated in Britain's now intensively farmed landscapes.
To prepare for the bees' return, Natural England worked with farmers in Kent to make more than 550ha of land suitable for the bees, as well as nesting birds, mammals and invertebrates.
"This international rescue mission has two aims - to restore habitat in England, thereby giving existing bees a boost; and to bring the short-haired bumblebee home where it can be protected," Natural England said when the project was announced last year.
"Bumblebees play a key role in maintaining food supplies - we rely on their ability to pollinate crops and we have to do all we can to provide suitable habitat and to sustain the diversity of bee species."
- NZPA