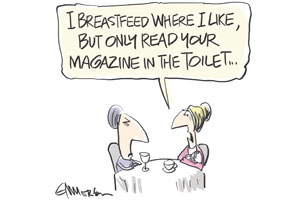 New Zealand mothers and breastfeeding advocates are outraged at a lifestyle magazine's online "commandment" that breastfeeding mothers at top restaurants should feed their babies in the toilet.
"Thou shalt not breastfeed at the table", proclaimed Heather W., of Better Homes and Gardens, in her list of 10 commandments for eating out with young children.
The American magazine trimmed the list to nine after an international outcry.
"Yes, I have seen table-side breastfeeding at a four-star restaurant," Heather W. posted on Yahoo's Shine network. "If at all possible, take it to the ladies room. [Note: most upscale restaurants have really nice restrooms!]"
As well as shutting breastfeeding into the toilets, her rules include keeping youngsters in their seats, trying to quell high-pitched screaming and not bringing noisy toys.
"The whole article is just insulting," Marilynn McLachlan, publisher of the New Zealand website Mums on Top, said last night.
The Auckland mother-of-four said many New Zealand mums were among hundreds of writers on a Facebook page who poured scorn on the article.
"It was disgusting, the whole article, but particularly taking your baby to the toilet to breastfeed them ... I think most mums thought the writer should go and have her lunch in the toilet."
Ms McLachlan said that when her children - now aged 7 to 13 - were babies, she breastfed them "everywhere", covering her breast with a blanket.
The commandments were posted last week. By Monday the magazine's editor had withdrawn the offending one and apologised for its "patently inappropriate sections".
"We support breastfeeding moms - and all moms - in their desire to include their children in their public lives."
In New Zealand, breastfeeding in public is a right. The Human Rights Commission says: "it is illegal for someone to stop you breastfeeding at work, where you are studying, on public transport, in government departments, in public places and in restaurants and shops."
The Health Ministry recommends exclusive breast-feeding until babies are about six months old, but this happens for only a quarter of babies.
The ministry is running an advertising campaign aimed at increasing the breastfeeding rate and the acceptability of public breastfeeding.
The La Leche League, a breastfeeding support and advocacy group, said breastfeeding in public was less of an issue in New Zealand than it was in the US and Britain, although problems occasionally surfaced.
She said the ministry campaign was important because although breastfeeding was generally expected, mothers were feeling less comfortable about doing it in public.
"I think it's been to do with the increase in the sexual side of breasts, especially in America. That's where Americans are coming from, saying 'It's disgusting to show breasts in public'."
The ten commandments
Thou shalt not:
1. Breastfeed at the table
2. Block traffic with bulky strollers
3. Order a 10-course tasting menu with kids under 10
4. Treat your server like a sitter
5. Turn dinner into a photo shoot
6. Bring noisy toys
7. Allow free-range kids
Thou shalt:
8. Feel free to order 'kid food' from the menu
9. Try to quell high-pitched screaming
10. Calmly discourage food fights
What do you think of these rules?
email newsdesk@nzherald.co.nz