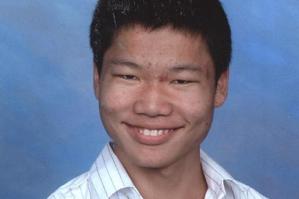 I loved the story this week of Chunji Gao, aka Gary, aka Bob.
The 16-year-old Auckland runaway had been reported missing by his father and police had been searching for him for nearly a month, fearing the worst, before a Samoan family living in Otara revealed Bob had been happily living with them all this time.
He'd been found by Roy Kainano, sleeping rough in the park, and had been taken home like a wandering pup.
Like any son, Roy wondered how his mum would cope when he brought home the scruffy stray but the generous-hearted mother of seven agreed the family could keep Bob and set another space for him at the table. And so Bob became the Kainanos' eighth son - no questions asked, no obligations demanded.
Bob could have lived with the Kainanos happily ever after as the family remained blissfully unaware that Bob was on the police missing persons list.
It wasn't until the Kainanos visited friends who recognised that one of these things was not like the other in the family line-up and told them that Bob was a wanted man.
Police were rung, Bob's dad in Howick was given the news - and then Bob dug in his heels.
He doesn't want to go home. He has no desire to go back to live with his family.
The unconditional and generous hospitality he's received from the Kainanos is his sort of world, despite the family living in cramped conditions and off the smell of an oily rag. It's like a heart-warming Hollywood film.
The authorities have said they'll work with all the parties to come up with the best long term living solution for Bob but I can't help wondering...Bob's been here for two years, attending a local college.
Yet after all that time, he is unable to communicate to anyone in English. He seems able to comprehend basic questions, judging from the Campbell Live interview, but he is unable or unwilling to speak.
What on Earth has he been doing at school for those past two years? How can anyone sit through two years of classes and neither understand nor be understood?
I accept if I was thrown into a class of kids speaking Mandarin I would struggle, but I would hope after two years, I'd be able to hold my own in a limited fashion.
Poor Bob. Sounds like he's been let down by quite a few people in his short life, except for a Samoan family in Otara who understand the meaning of family and unconditional love.
Maybe there'd have been a different outcome for the poor benighted Korean family in Christchurch, all four of whom were buried this week after apparently taking their own lives, if they'd had the geographical good fortune to find themselves next to people like the Kainanos.