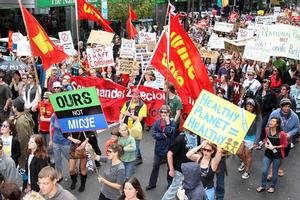 An estimated 50,000 marchers joined one of the biggest protests in Auckland for decades today, to give the Government a firm message to stay away from mining on conservation land.
Police, however, said the number of protesters was closer to 20,000, although no arrests were made.
Marchers left the bottom of Queen St about 11am and by the time the first of them arrived at Myers Park, just below Karangahape Rd, they were still leaving the bottom of Queen St.
At one point, they stretched almost from end to end of the road.
Greenpeace executive director Bunny McDiarmid said it was one of the biggest turnouts of New Zealanders she had ever seen.
"More than 50 per cent of the country does not want schedule four land mined," she said.
"People have made it very clear today that they are not happy with the direction this Government is taking us.
"The mining proposals are like something from another age. Mining pristine conservation lands is exactly the backwards thinking that must change if New Zealand's to have any chance of prosperity in the future."
Greenpeace ambassador and marcher Robyn Malcolm said: "Our land will always be more important to our identity than some extra dollars in the pockets of mining companies."
The protest blocked most of Queen St for at least an hour, but it showed how passionate New Zealanders were about protecting conservation land from mining, said Green Party co-leader Metiria Turei.
The Government has announced plans to open 7058 hectares of protected conservation land and marine reserves for mining, while adding protected status to a further 12,400ha. It said the value of resources underground could be $140 billion.
However, Ms Turei said the numbers being "bandied around" were estimates and based on superficial core samples.
She said the figures had not been substantiated, and people were saying to the Government there were some places which "were out of bounds for mineral exploitation".
"This is the Government trying to satisfy the interests of the mining industry over the interests of the New Zealand public. They want to sell off these assets to private interests, knowing they will get less than 1 per cent of the royalties back, spinning industry numbers about the jobs that might be created."
The level of support was not surprising, she said.
Richard Davies from Federated Mountain Clubs said the march showed Kiwis were proud of New Zealand's outdoor image.
"The message to the Government is clear - keep your greedy hands off our precious landscapes."
And Forest and Bird's Nicola Vallance said national parks were an "essential element" of the country's identity.
"The Government is eroding public trust but it's obvious from today's turnout that people will push back hard to make their voices heard on this issue."
Energy Minister Gerry Brownlee said mining was a controversial issue and was always bound to draw strong public opposition.
"We know that the numbers are roughly 50-50 on this ... and we'll continue to handle it in a sensitive manner," he told 3 News.
Ms Turei said the Government was backing off its plans because of the widespread public opposition to mining on schedule four land, and the public wish for protection of conservation land.
The consultation period for the proposal was extended by three weeks after 14,000 submissions were received.
She also said the Government had failed to consult Maori about the impact on them of mining the lands.
Protesters were concerned about harm to the economy, the country's "clean green" brand and the tourism industry.
"These plans are an attack on our values, that we believe our country is worth protecting, that the environment provides us with essential ecosystems services that we cannot get from elsewhere -- health and soil, clean water, bio-diversity.
"Those things are not negotiable," she said.
- NZPA, NZHERALD STAFF